TOURISM TODAY - EASY NATURE GETAWAYS FROM TBILISI
Georgia, like much of the world right now, has closed its borders and declared a 'State of Emergency'. However, grocery stores and pharmacies are open for your daily essentials (no shortage of toilet paper yet!) and the beautiful Georgian nature is even wider open for you to explore at your leisure. Made easier, of course, if you have your own car, as minibuses countrywide are at a standstill until the virus passes. While you will spend a lot of time stuck indoors until this is over, there is no reason you can't drive away from it all for an afternoon walk in the woods (or, for the hardier among us, for a weekend camping trip). The key with this is to stay away from people- and where better to do that than in Georgia?
20 minutes out of the city boundaries in any direction will put you in open fields, woodland or hills. Below are some ideas of destinations, though there are many stops in between and beyond what we suggest here- nature merely awaits your curiosity!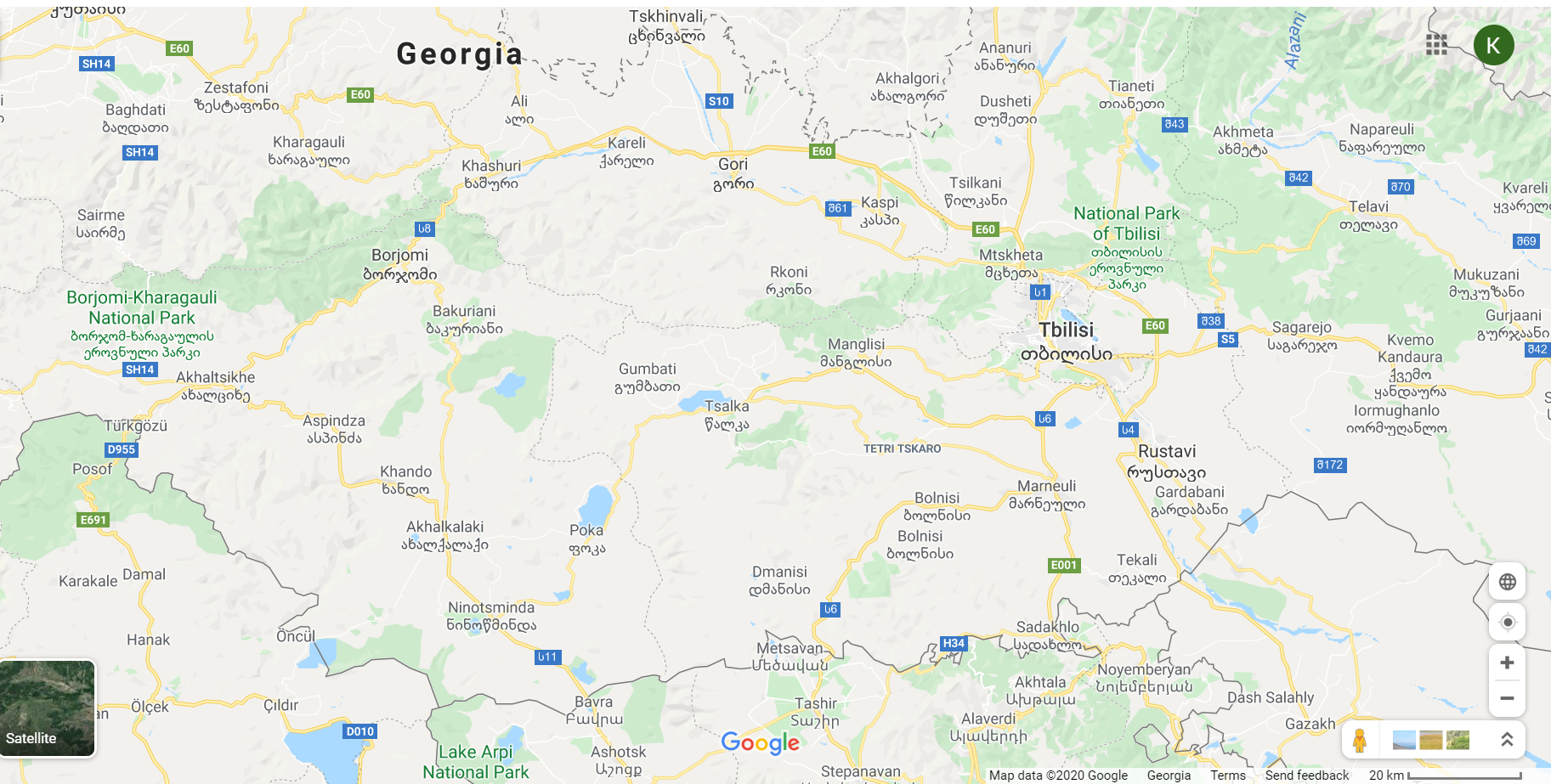 NORTH
North of the capital, you have the Mtskheta region (avoid the town and churches at this time!), with its hill trails, open fields and river-side picnic spots. Children will especially enjoy this area for the space to run around, or to climb on rocks by the river and try to spot some fish. Also in this area is the Mtskheta-end of the 17km trail westwards to the Didgori Monument, well out of the way of the crowds and an impressive sight to see.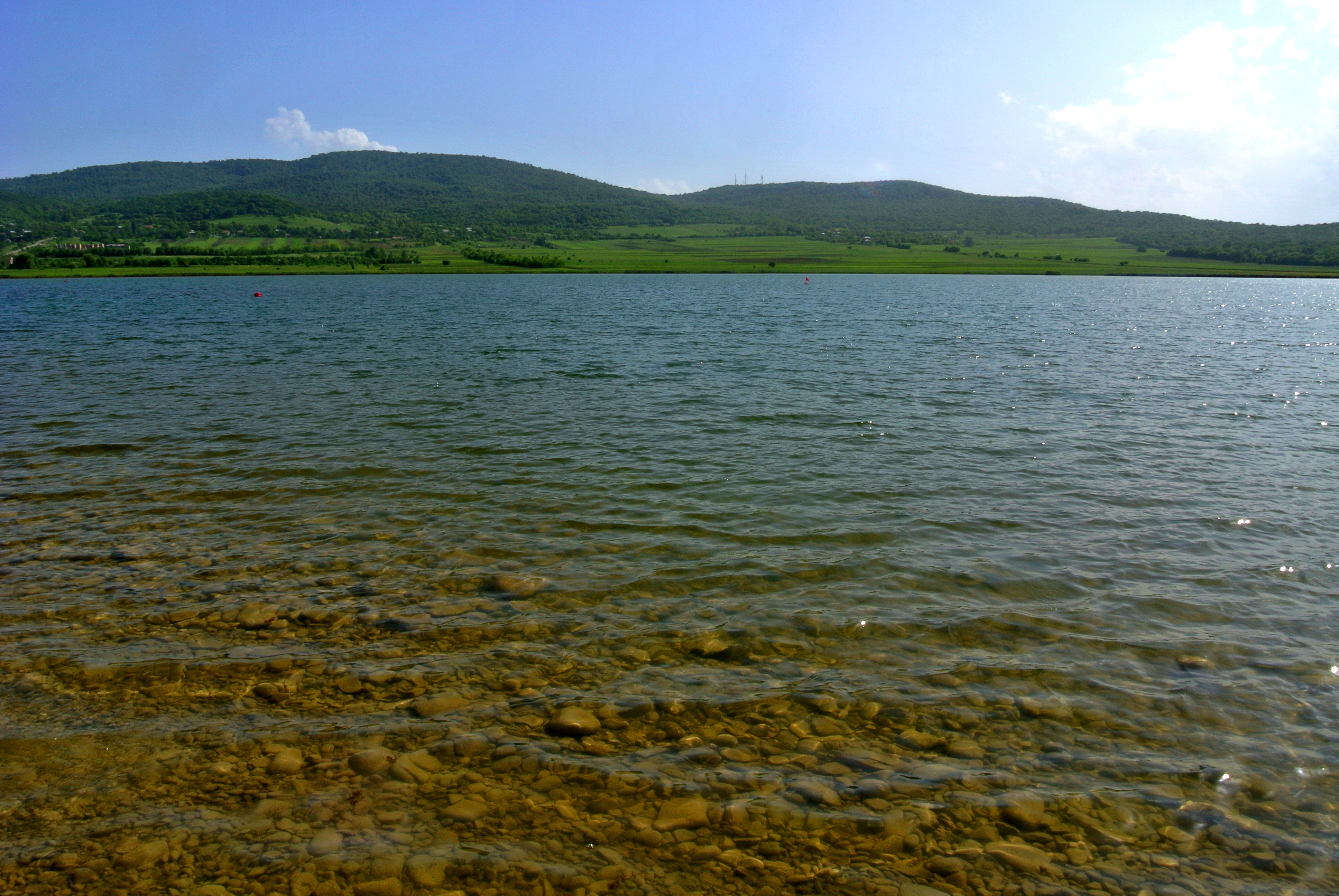 Bazaleti Lake
Driving past Mtskheta, turn right towards Natakhtari. Aim for Bazaleti Lake 40km from Tbilisi, a lake fed by springs and rainfall in an open valley.
Onwards is the Zhinvali Reservoir- a beautiful blue in the depths of the mountains. For future reference (or now, if it is open and there aren't too many people around), you might like to explore the Ananuri Fortress which overlooks the reservoir.
Some kilometers further on is the Gergeti Church and its surroundings. Check out our article here to find out more about what you can discover there.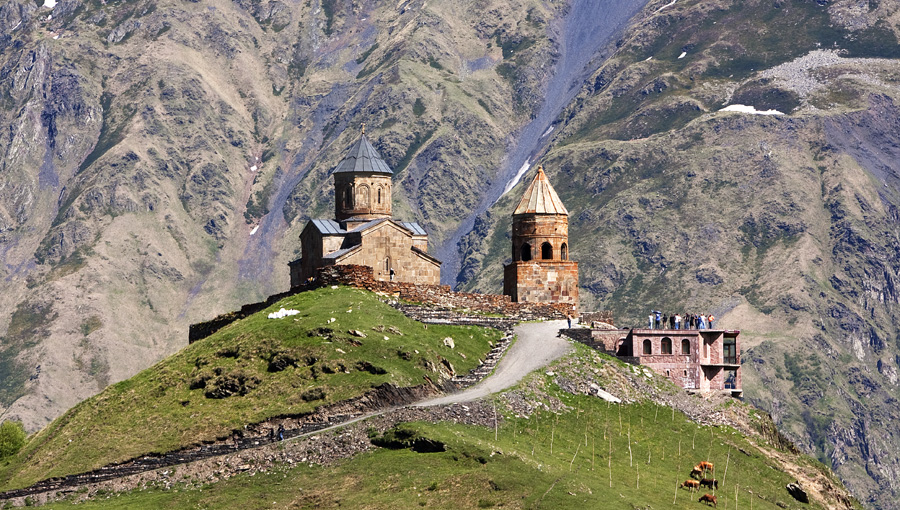 Gergeti Trinity Church by Levan Gokadze
Back to your pre-Mtskheta starting point, head right, skirting the mountains on your left and Gldani on your right and head out on the well-asphalted road towards Sioni Lake (reservoir), an artificial lake built during the soviet era, with a dam on the Iori River and replete with fishing opportunities.
On the way, you can stop to explore Tskhvarichamia ("Lamb-Eater"), a relic of Soviet health-resorts, to which children were sent for a healthy respite and to train for the Pioneers.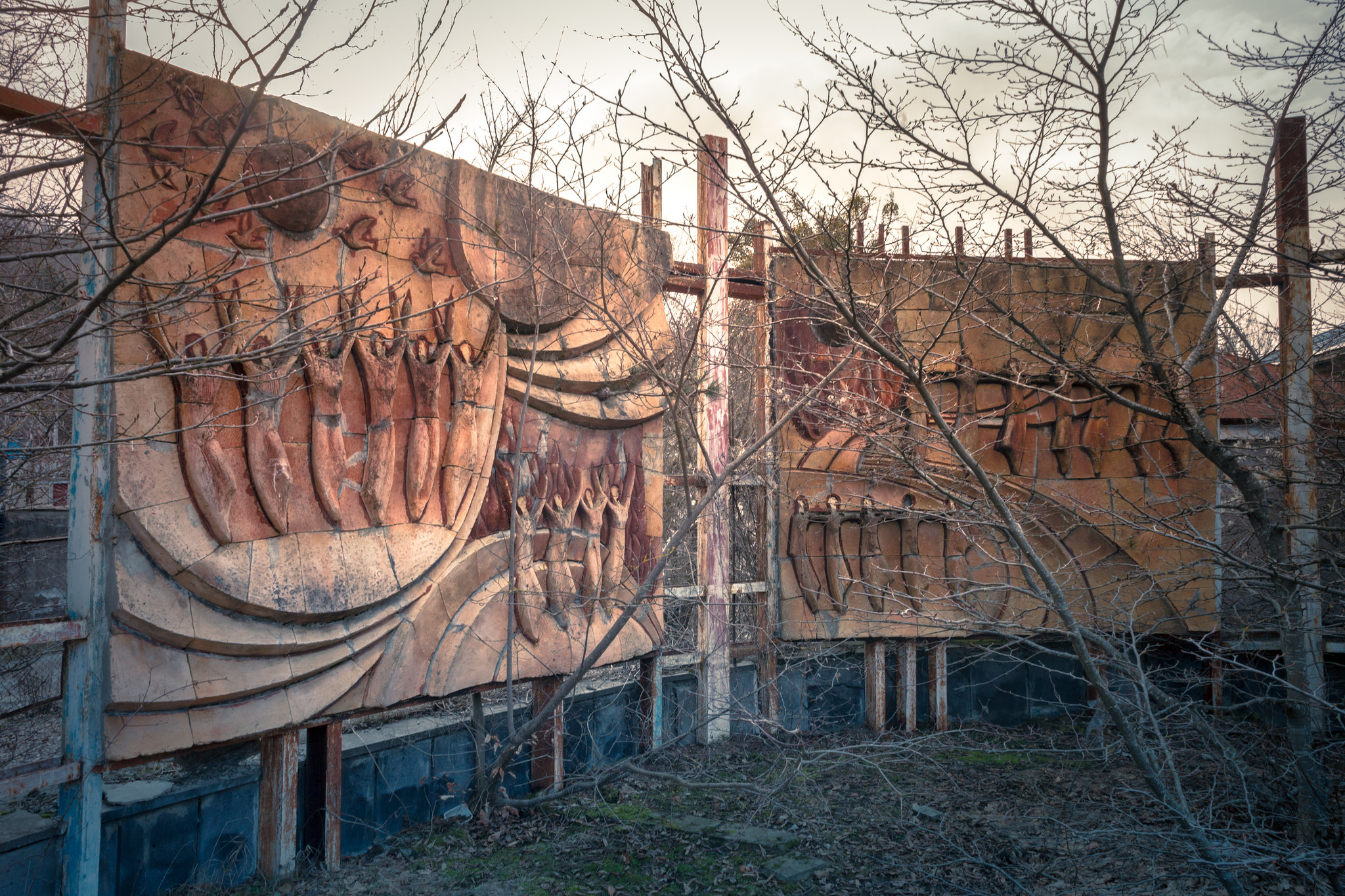 Source: ladentdeloeil.net
Don't miss out on the Bear Shelter there, though don't get too close to the fence- it's not got the infrastructure for visitors!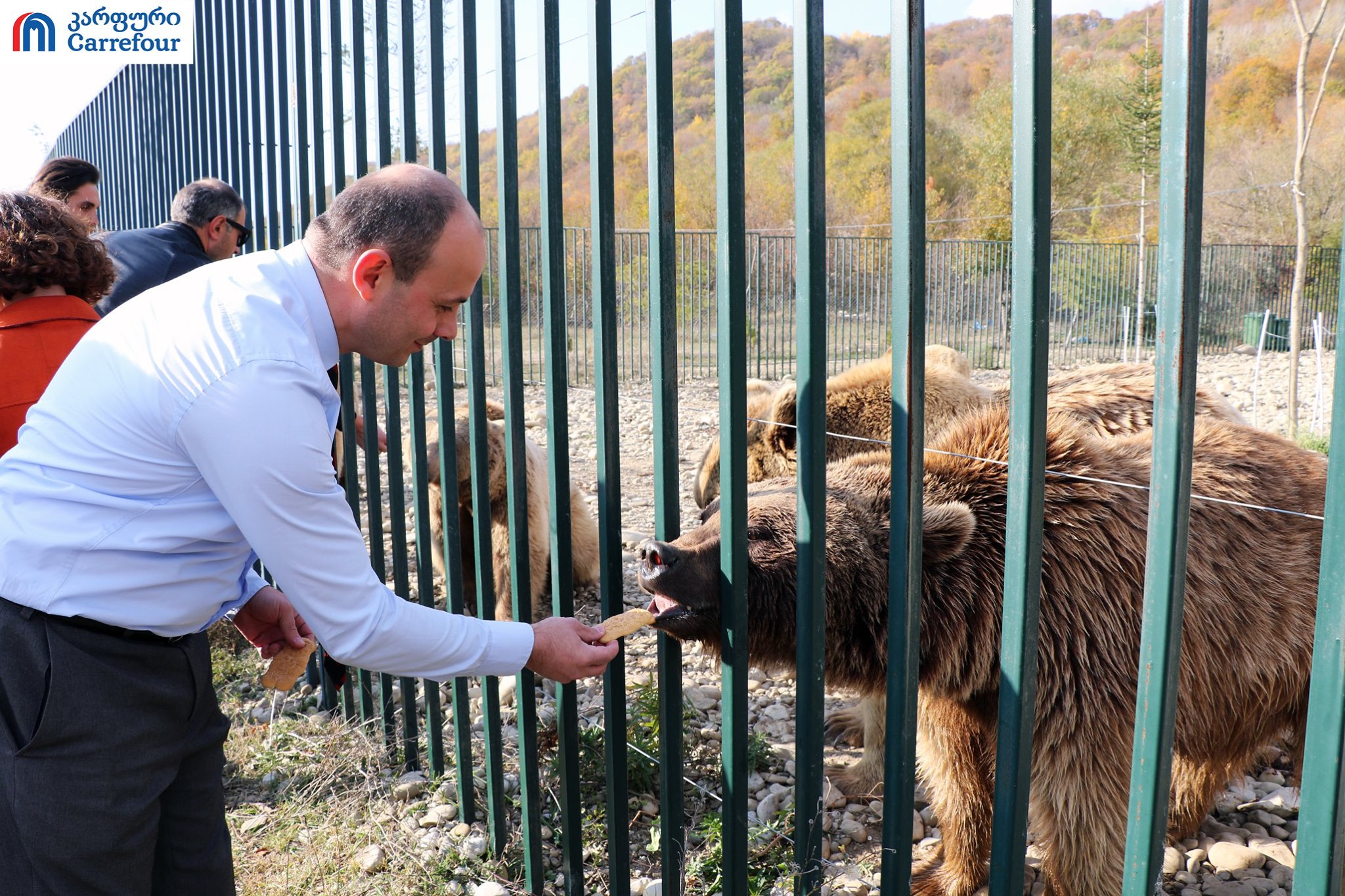 Further along the road is the beautiful, fairytale Sabaduri Forest- perfect especially after a fresh snowfall, or dressed in spring mist or autumn colors.
EAST
The eastern winemaking region of Georgia is best seen in spring and autumn, and has plenty to explore of a weekend.
Once in Kakheti, drive north to Akhmeta for the Batsara-Babaneuri State Reserve. It was created in 2003 and includes the Batsara-Babaneuri Nature Reserve and Ilto Managed Reserve, and boasts a remarkably diverse fauna.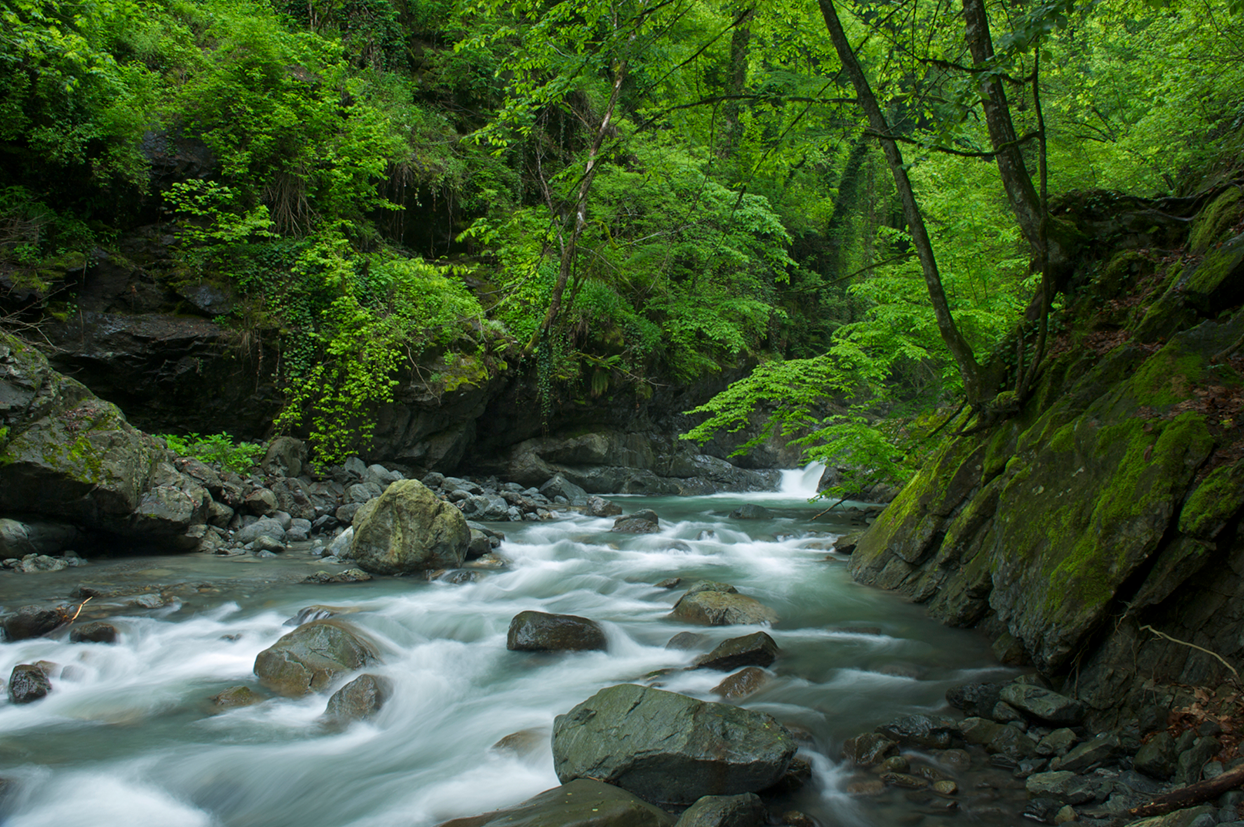 Lagodekhi Protected Areas. Source: CNF
Heading south on arrival in Kakheti, on the far side of the Alazani Valley is the Lagodekhi Protected Areas in the Greater Caucasus Mountains that border Azerbaijan. It is said to be one of the world's best-preserved, offering a diversity of natural landscapes- from dense forests with waterfalls to volcanic formations, flora and fauna, and it makes a great day out (with an early start from Tbilisi!) or weekend trip.
SOUTH
South of Tbilisi towards Rustavi, you have the Krtsanisi Forest Park to explore and, beyond that, Bolnisi.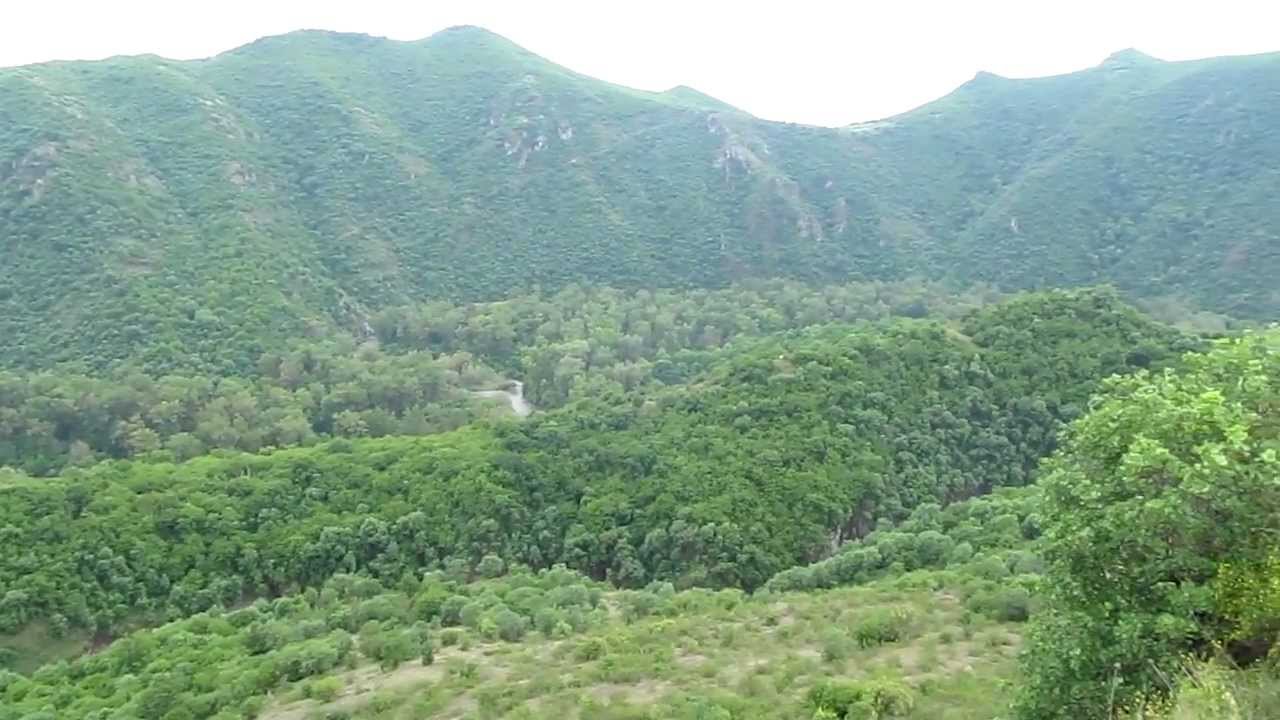 In the green heights above Bolnisi is the 12th or early 13th century Pirghebuli monastery, a medieval Georgian Orthodox monastery in the Khrami River valley. The monastery consists of several structures in various states of preservation- the main church has a new roof, the tower not. The main church boasts rich external decorative stone carvings. The monastery is inscribed on the list of Georgia's Immovable Cultural Monuments of National Significance.
Further out is Dmanisi. The archaeological studies and excavations here started in 1936, and continue even today. A footprint of the oldest human in Europe was discovered on site, as was a human skull that is 1.6 million years old and a hominid skull of 1.8 million years. The surroundings are wooded hills, and even if you don't go to the museum, the area is fun to explore as you imagine the ancient settlers that once lived there.
WEST
Drive up through Liberty (Freedom) Square and into the hills for Kojori. Some 30 minutes outside the city, the village is surrounded by woods and even has its own ruined fortress to walk to.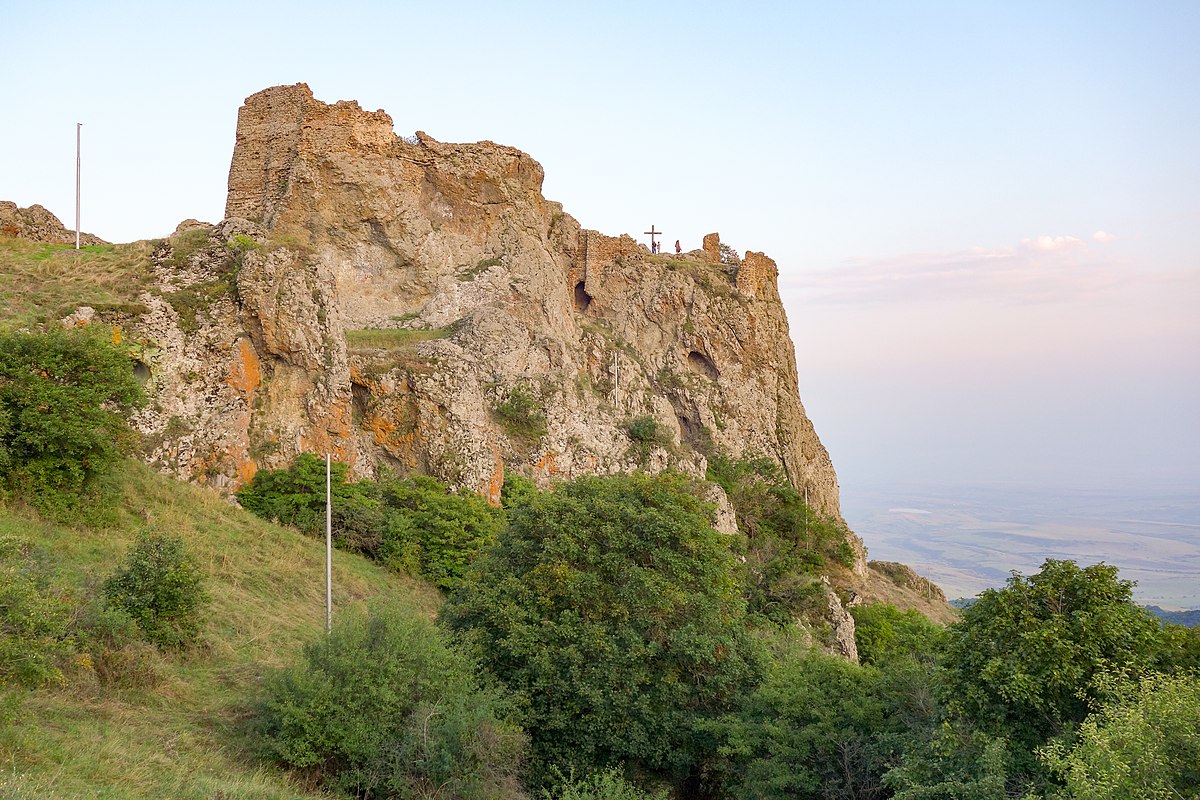 Alternatively, drive through Vake, through Bagebi and up to woodland Tskhneti, a beloved health-resort dating back to Soviet times and now permanent home to the wealthy of Tbilisi. In its surroundings, you'll find plenty of forest trails to explore. After the village center, before heading to Upper Tskhneti, turn right at the restaurant and follow the road out into the mountains for great walks and views.
After Upper Tskneti, you'll hit the highway heading West. There's plenty to explore out here- endless walks, picnic and camping delights.
Surrounded by snow-capped mountain peaks and green plains, Tsalka Lake is a cradle of calm in Georgia. Found just 30 km northeast of Pirvani Lake, Tsalka is often overlooked by visitors. However, the serene peaceful waters are a dream for those who like the great outdoors.
Nearby is the Dashbashi Canyon- a new favorite among tourists: liters of water cascading down glistening golden rocks into a pool of cool turquoise waters below.
Onwards is the Paravani Lake, the biggest in Georgia and ideal for bird-watching enthusiasts. In winter, the lake freezes, making a magical sight with the backdrop of the snowy mountains and plains.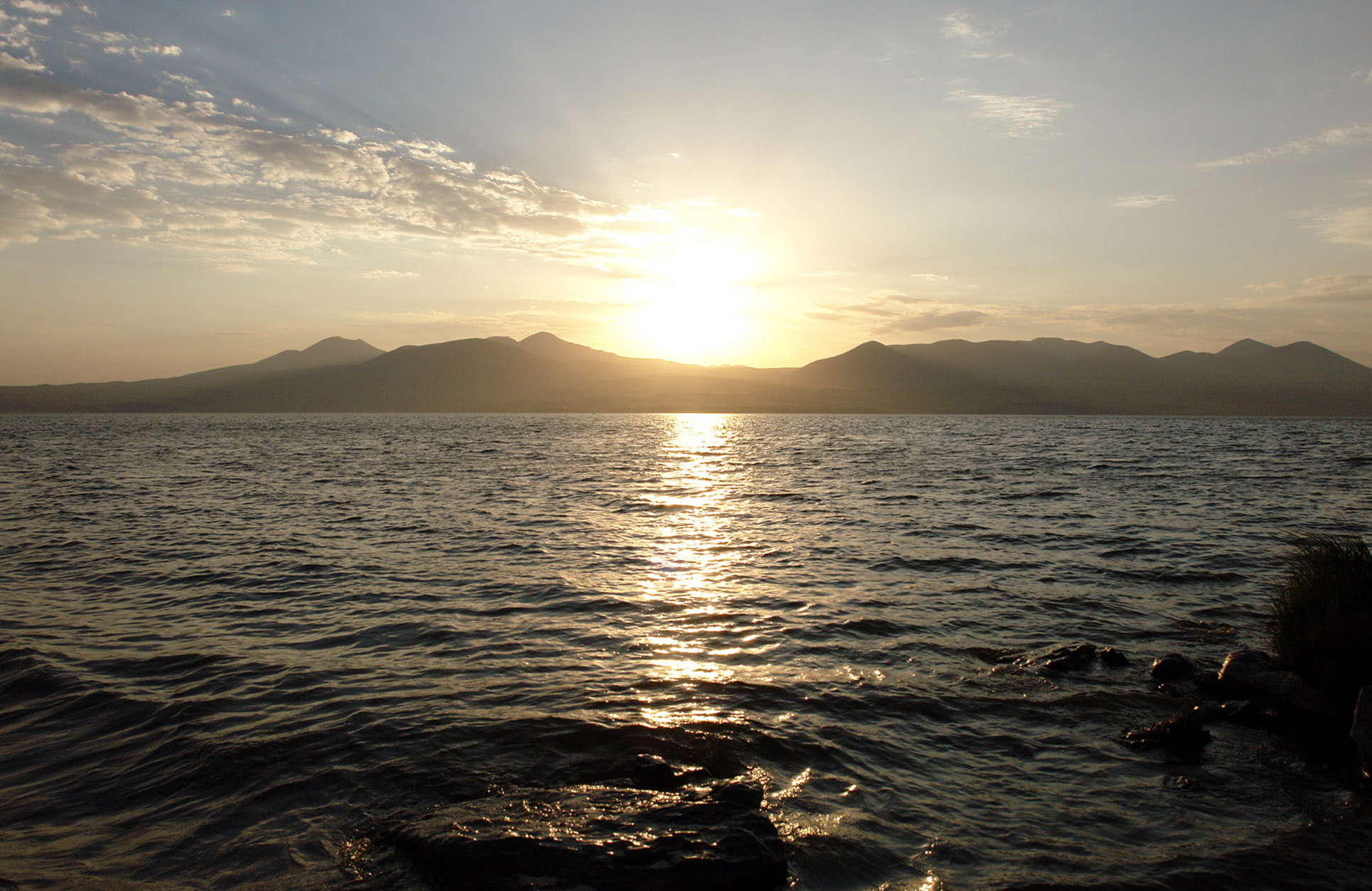 Paravani Lake by Paata Vardanashvili (Photograph edited by Vassil)
Back at your Tbilisi start point, drive North past Mtskheta and follow the highway West. Near Kaspi there are hills and fields to explore, and various historical sites, like the Grakliani Hill archaeological site and the Samtavisi Cathedral.
2.5 hours outside the city, past plenty of exits to explore the hills and woods, is the Borjomi spring water resort. You may want to avoid a stop in the town- but there is plenty of access to the wild surroundings. Cross the river and head towards Tsagveri and the beautifully painted Timotesubani Monastery. Further up is Bakuriani and the endless mountains to explore and beyond which is the Ktsia-Tabatskuri Managed Reserve, an area that protects Tabatskuri Lake, wetland and alpine habitats.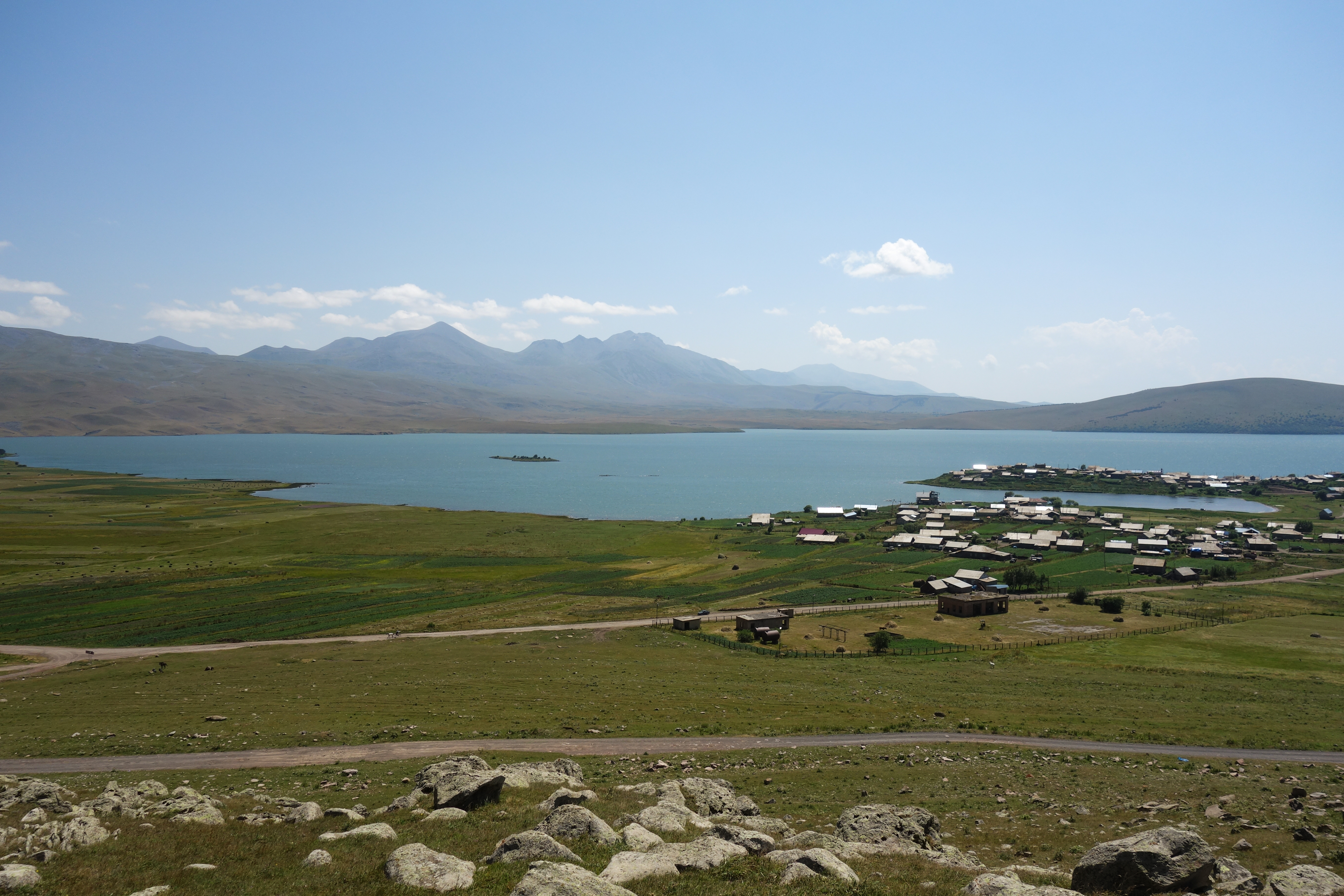 Tabatskuri Lake
By Katie Ruth Davies