GAULT&MILLAU LAUNCHES GASTRONOMY GUIDE TO GEORGIA
Gastronomy and tourism are very closely linked and having good gastronomic traditions, something which Georgia can clearly boast, plays a significant role in tourism development. Now, through the Gault&Millau Georgia guide, the world will come to know more about the country's unbelievably delicious cuisine, distinguished restaurants and celebrated chefs.
On June 27, the presentation of the Georgia-based version of the world's most prestigious and influential gastronomic guide 'Gault&Millau' was held at Wyndham Grand Hotel Tbilisi.
The guide includes the best restaurants and chefs in Georgia, evaluated by the international team of Gault&Millau. The book was released in collaboration with Georgia Today Group and will be available in 15 countries, so that food lovers and travelers worldwide will have a wonderful opportunity to discover the renowned Georgian cuisine through comprehensive and trustworthy information about the must-visit restaurants in the country.
The presentation of Gault&Millau's first book about Georgia was held in a warm and friendly atmosphere. In addition to relaxing live music, a delicious dinner was hosted by celebrated chefs featured in Gault&Millau Georgia, giving guests the chance to personally sample dishes prepared with rare fantasy and professionalism.
The event was attended by representatives of the diplomatic corps, tourism and culinary sectors. GT spoke with a few of them to grab their impressions on the release of the first Gault&Millau gastronomic guide about Georgia.
"It is very important that Gault&Millau has been established here in Georgia," said former Swiss Ambassador to Georgia Lukas Beglinger. "It shows the quality of Georgian cuisine, which, of course, is popular with those who know it but a mystery yet to be discovered for many tourists. Gault&Millau stands for quality and it is very important for Georgia to become more famous worldwide. We've had wonderful dinners here in Georgia and thanks to Gault&Millau, we will have more opportunities to do so. It is also very important to know which restaurants are especially good, which a little bit less so, so it this a big success and big progress."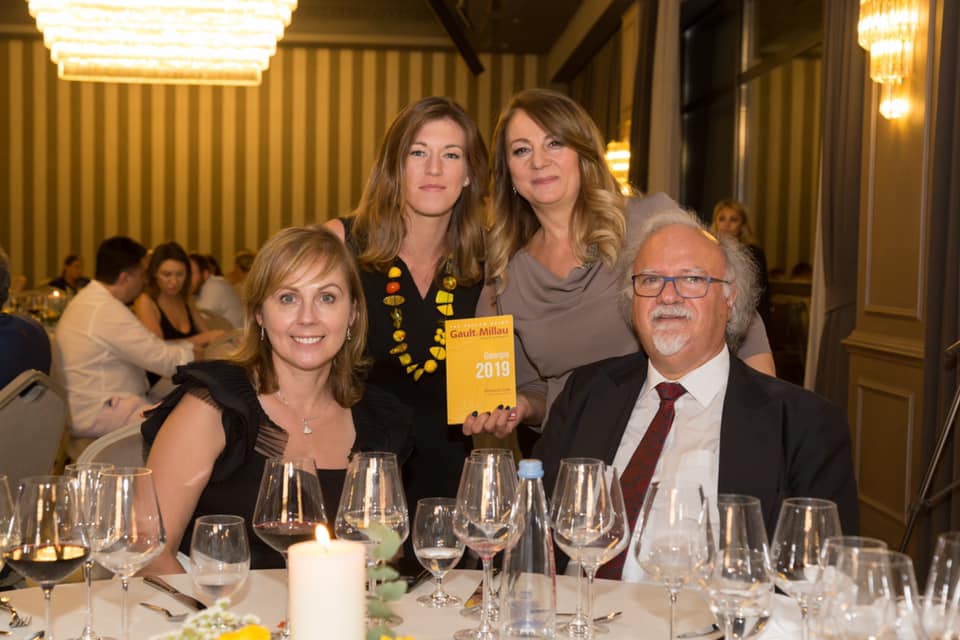 French Ambassador to Georgia Pascal Meunier was also among the honorable guests at the event.
"Gastronomy is linked with high-quality tourism. France is a country which attracts many tourists for its beautiful landscapes and cultural heritage, but gastronomy also brings a lot of people. I'm very happy to see that Georgia, which is considered a cradle of wine and which was the guest country of the first exhibition in Bordeaux and which had a successful gastronomic dinner organized in Paris, tries to attract the attention of people with its gastronomy, because while people like to travel for different reasons, they also enjoy beautiful scenery and good food," he told us.
Marianne Lecerf, the Head of the International Group of Gault&Millau, was very enthused during the launch event.
"I'm very proud that Gault&Millau is being celebrated this way tonight in this fabulous location. I see that people [here] are interested in gastronomy, and this is very good news for us. Gault&Millau want to evaluate the gastronomy in Georgia and let the world know that something is happening [here]. People now have a new book describing the best chefs in the country: we will publish it, we will spread it around the world, and we will let everyone know what Georgian chefs are doing for global gastronomy!" she said.
"The fact that Gault&Millau's guide has been published in Georgia is very important, as it represents one of the best platforms for the country to integrate its cuisine with world gastronomy," said David Songhulashvili, MP of Gurjaani, Kakheti region. "This sector is the main basis for the development of tourism and the establishment of such platforms will further contribute to the development of tourism in Georgia," he said.
Itsik Moshe, President of the Israel-Georgia Chamber of Business and founder and Chair of Israeli House, noted that such initiatives can help to find a new shape for the local cuisine to make it even more attractive for foreign travelers.
"I welcome the initiative of today's event. I believe that now we will find a new "shape" for Georgian cuisine, a shape which is exciting for many foreigners. Interest in Georgia and its cuisine is growing and such activities as [this guide] are important for the country's tourism development. This is just a beginning for the tourism sector: the country has much more to show the world and such initiatives will further contribute to the development of its potential."
Gault&Millau is a well-known French restaurant guide founded by two restaurant critics, Henri Gault and Christian Millau, in 1965. Gault&Millau rates on a scale of 1 to 20, with 20 being the highest. Restaurants given below 10 points are rarely listed. The points are awarded based on the quality of the food, with comments about service, price or the atmosphere of the restaurant given separately. Based on this rating, high-ranking restaurants may display one to four toques.
Since 2017, Gault&Millau has reviewed dozens of restaurants in Tbilisi and is still looking for new restaurants to discover.