FINE DINING IN TBILISI
There's nothing better than a great view, gentle music and a melt-in-the-mouth selection of the best Georgian cuisine has to offer. If you've got change to spare and are not on a budget, then these restaurants will be right up your street.
FUNICULAR
High above Tbilisi, you'll find the city's most stylish center for fine food and drink – the Funicular Complex. Located in a much loved and carefully restored historic city landmark, the Complex enjoys stunning views of the city. Equally dazzling is the range of four separate wining and dining options on offer.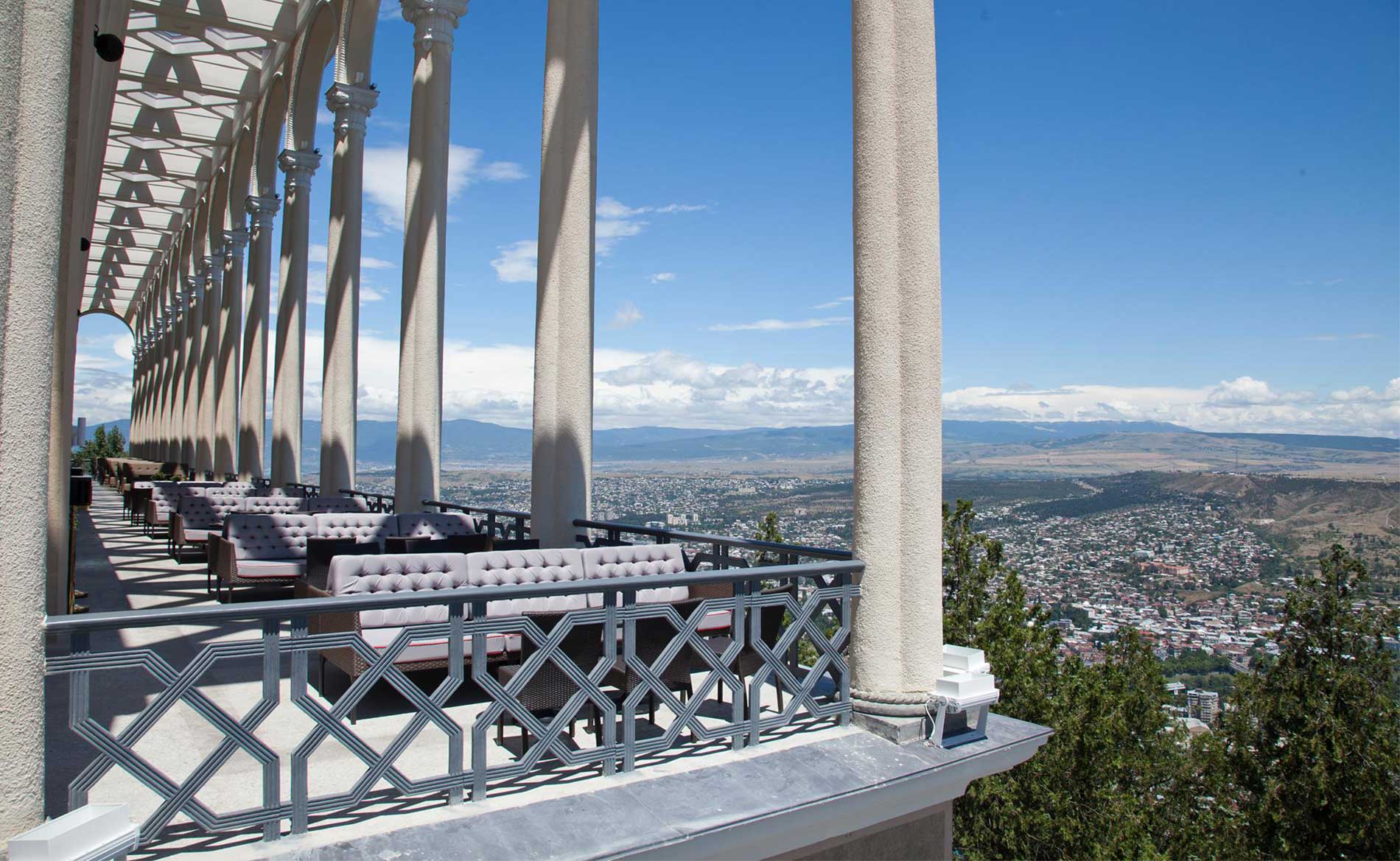 Located on the first floor, Georgian restaurant "Chela" specializes in the highest quality meat dishes, including such specialties as khinkali in a modern ambiance, featuring cutting-edge design.
Next, to "Chela" you will find the bakery "Puri Guliani" which is a dream come true for lovers pastries and breads, including every kind of Khachapuri.
On the second floor of the Complex, you will find the treasure of the building – the restaurant "Funicular" offering the classic Georgian dishes with a twist: carefully chosen modern ingredients complement the traditional ones. The Spanish Josper grill and oven will ensure you enjoy each dish at its optimum taste and texture. While the wine gallery and experienced sommelier will introduce you to the best and sometimes little-known wines to accompany particular dishes. And you'll savor it all in a comfortable and sophisticated environment, equipped with leather armchairs and comfortable tables. Here you'll find something totally unique: a historic fresco entitled "Longing for Pirosmani", created by Koka Ignatov in the 1960s.
That's not everything Funicular Complex offers. Besides, on the third floor, you will find the ultimate venue for a conference, wedding reception or party, with the facilities and service to match.
ANDROPOV'S EARS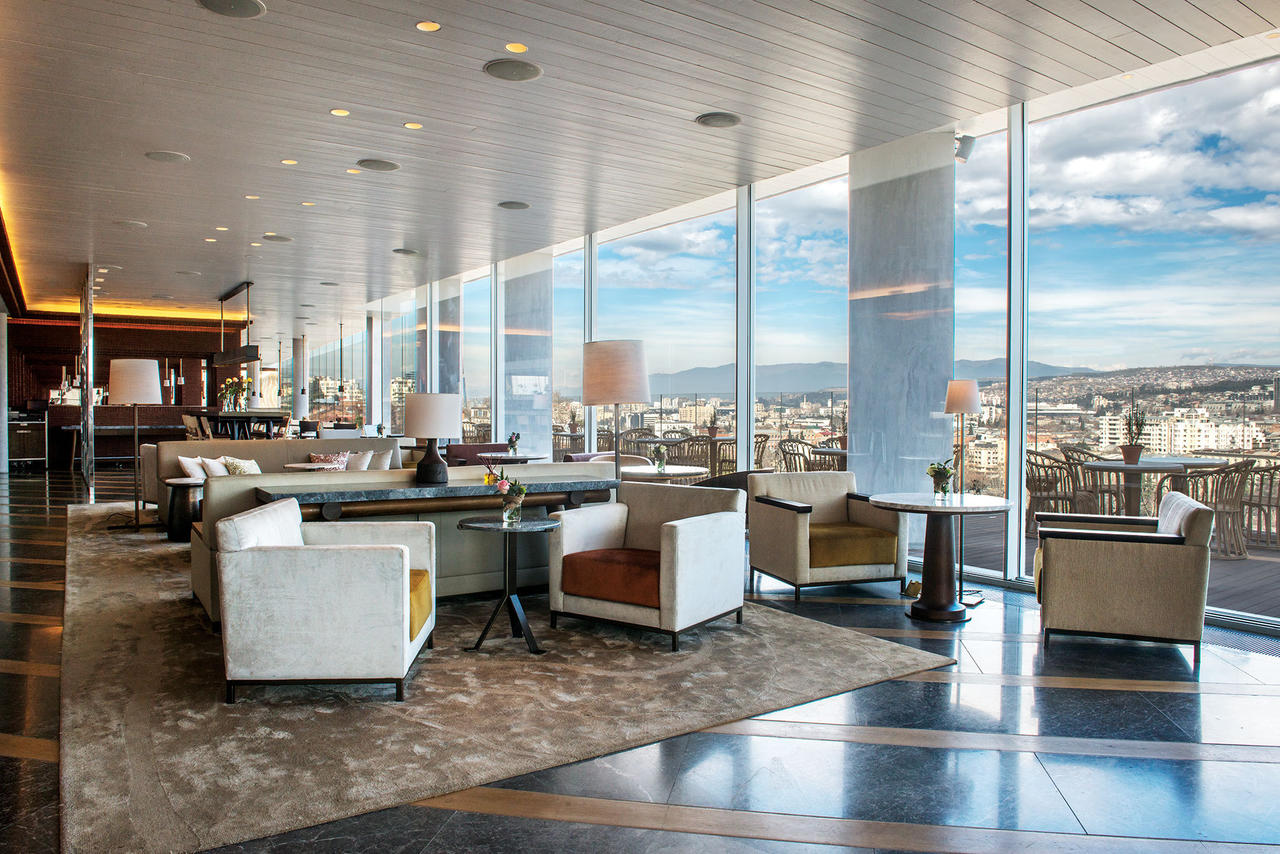 Head up in the lift of the glass-enveloped Republic building to discover an incredible fine-dining experience in the sky overlooking the capital city. The menu of the Andropov's Ears Seafood Restaurant is truly special, with an extravagant choice of fresh fish ranging from luxe king crabs, fresh oysters, lobster, red prawns and the finest aged prime beef for the biggest beef connoisseurs. Created by Gilles& Boissier, a French Interior Design Company, the restaurant's design is a mix of cosmopolitan flair and local elements. In high summer the terrace plays host to a spectacular buzz. The bar, with its panoramic views over the city, serves the best classic cocktails and comprehensive collection of Tsinandali Estate wine.
1 Republic Sq.
(+995) 591 08 71 72
QALAQI RESTAURANT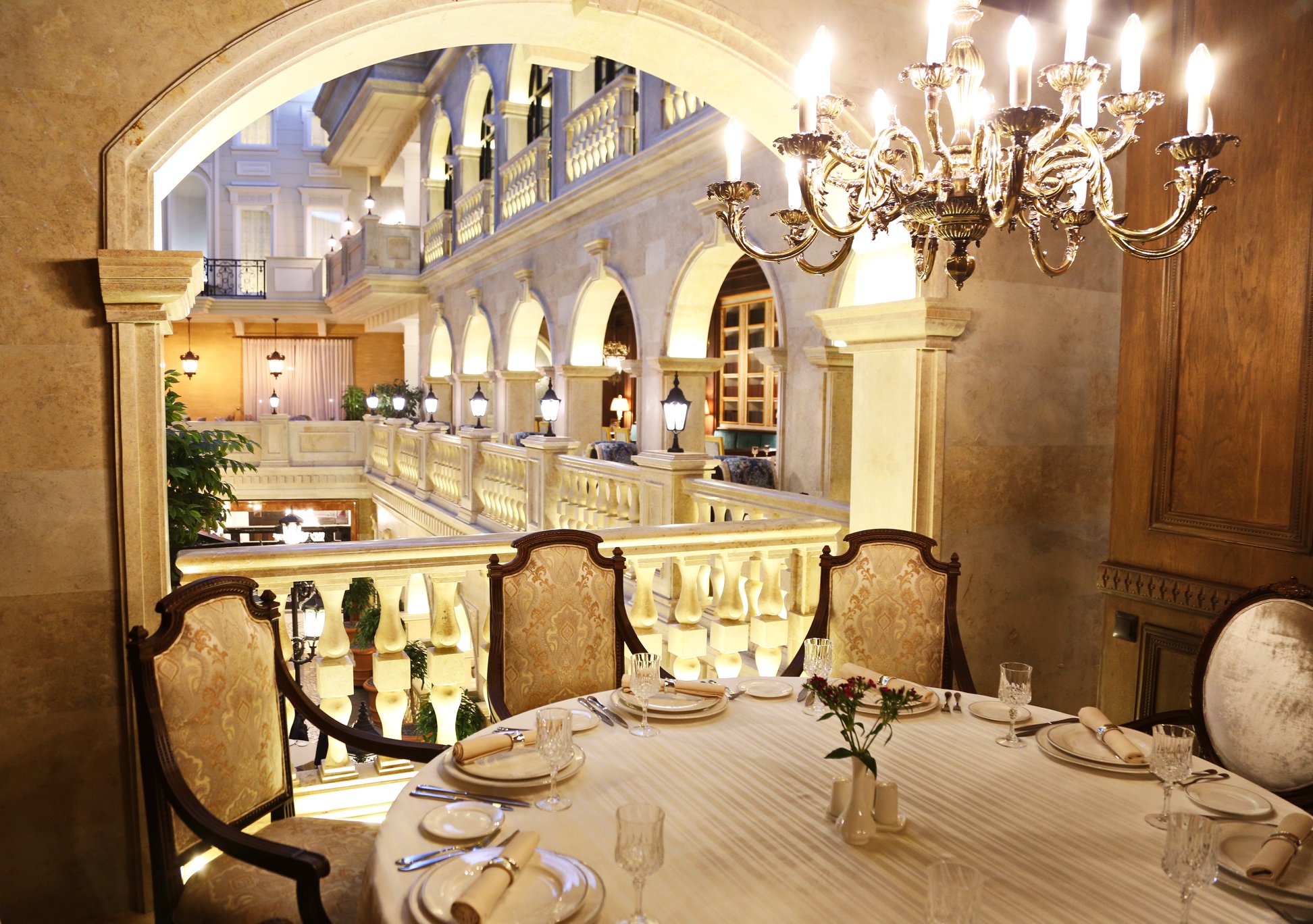 This is a very new Georgian-European restaurant that opened in a purpose-built elegant three-storey building on Kostava, near Vera Park.
The chef, David Tavernier, is French and is very good at what he does. All his dishes are extremely delicious.
In his words: "First, we serve traditional Georgian food prepared by my chefs. Some dishes I don't touch at all because they are really good, and some I put a little twist on in texture or taste, or in the design and plating, for example. Second, we have European, which I'm in charge of. These two occupy the first two floors in a high-quality brasserie format. Then, there's the fine dining. The third floor is a one Michelin star standard fine dining French restaurant, "Bronze by Nicolas Isnard", all dishes signed off by him with 35 seats maximum. It is completely different from anything else in Georgia; the way of service, the style of cooking: everything is revolutionary; a Michelin star quality 'top of the top' establishment. We have two formulas: a menu with five starters, six main courses (three fish, three meat), four desserts. Out of this, guests can choose four or six courses. The former comes with one starter, two mains (one fish, one meat) and one dessert; the latter with two starters, two mains (one fish, one meat) and two desserts."
Overwhelming? Well, Where.ge can at least recommend their Caesar salad, totally different to what you might expect and guaranteed to take your tastebuds to a new level of culinary awareness!
45b Kostava Str., Tbilisi
(+995) 322 55 10 30
MOZAIKO LOUNGE TERRACE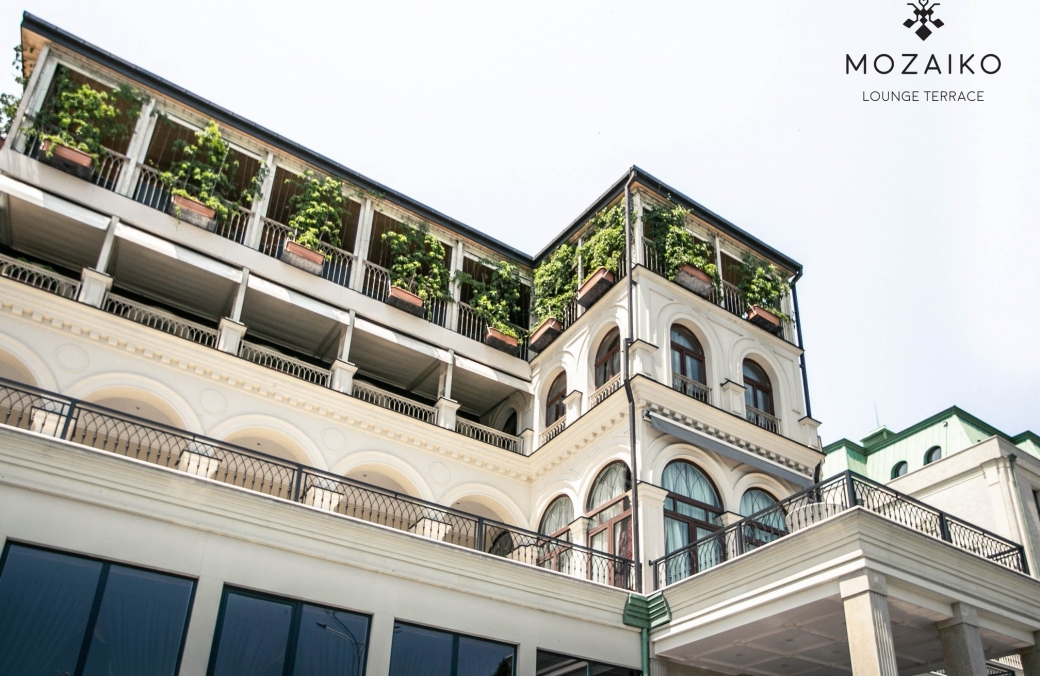 Hidden at the top of the Ambassadori hotel is a unique bar with Old Tbilisi views. It's unusual decor comes with sophisticated service and an eclectic mix of global cuisine- try Japanese, Arabic, European and Middle-Oriental dishes, or just head there for the cocktails and fun! The sushi is particularly popular.
Best enjoyed with friends, you can book open and closed VIP rooms, or drink and chat the night away on the 4th floor terrace of the Ambassadori hotel.
17 I. Shavteli St,
Ambassadori Tbilisi Hotel, Tbilisi
(+995) 599 44 32 86
CHEF'S BROTHERS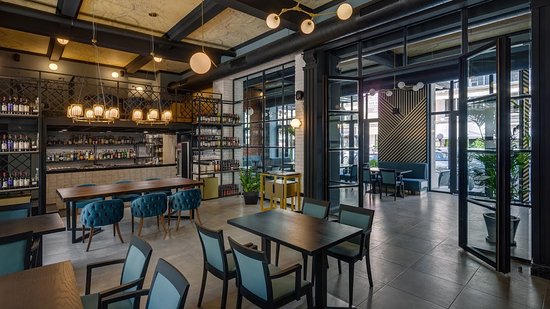 Chef's Brothers is the flagship restaurant of Chef Konstantin Tedeluri, who has recently risen to popular renown as a judge on the new TV show Master Chef.
The restaurant, located near Vake Park, is tastefully and stylishly decorated with brick, iron, and velvet, giving it an upscale but comfortable, modest vibe. Most visitors won't even notice the decor, however, once they taste the food.
The menu is a nimble blend of traditional Georgian and European dishes. Tedeluri cleverly plays with ingredients, techniques, presentation, and flavors to create exciting new dishes that are definitely worth a visit.
24 Mosashvili St., Tbilisi
(+995) 0322 90 37 75
BARBARESTAN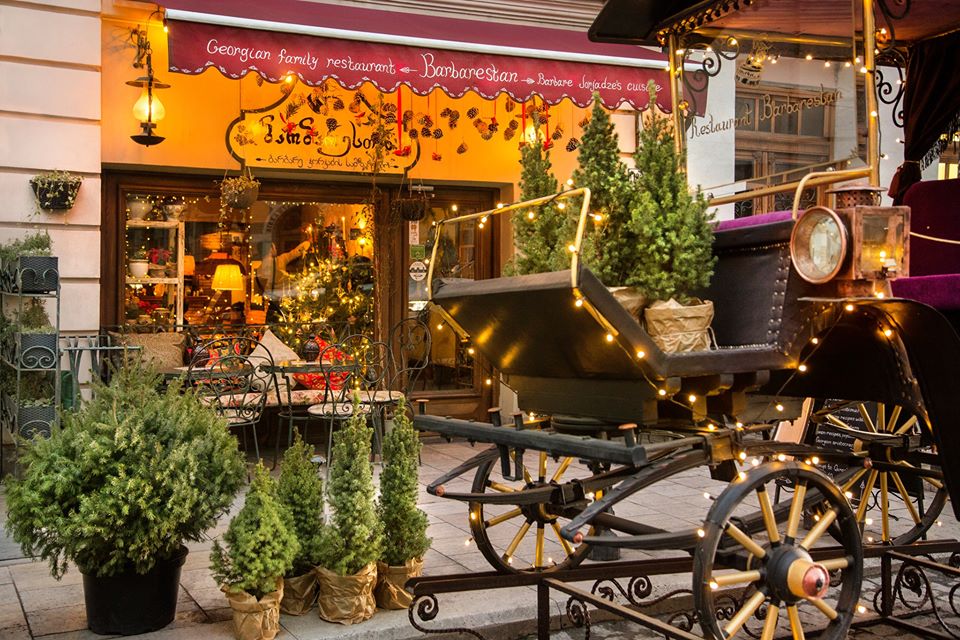 The story behind this cozy restaurant sounds incredible. "Barbarestan" means "At Barbare's" in Georgian, but it's not the owner's name. Back in 1847, noble lady Barbare Jorjadze, a truly progressive mind of the XIX century, speaker for women's rights and dedicated housekeeper, published a book of recipes and practical household tips. Mid-2010s, one of the copies was discovered at the Tbilisi flea market by one of the restaurant's founders.
The founders are the parents of 11 children, and the elder children are also involved in family business. While working on the restaurant concept, they decided to make Barbare's book the base of the whole menu.
The interior design remembers 19th century Georgia, when nobles gathered for beautiful dinners: brick walls, traditional tablecloths, wooden furniture, wonderfully painted plates… The staff is extremely attentive and polite, and if you happen to meet one of founders, a member of that big Qurasbediani family, you will be enchanted by the manner in which they will treat you.
The food is prepared according to old Georgian recipes, so some names and ingredients might surprise you. The waiters can advise you well, plus they are trained to pair wines with dishes, too. Quince soup, cucumber and nadughi salad, assortments of dips, a glass of Qvevri wine and a piece of pelamushi cake are a great option for a light dinner. Hot tea with a variety of homemade jams (white cherry, fig, walnut, feijoa and even aubergine!) is also a great option for a cool autumn evening with family or friends.
132 Aghmashenebeli Avenue, Tbilisi
(+995) 322 94 37 79