Pine Chalets by KA Group – Traditional Host in the Mountains
In Gudauri, in a slightly warmer place than the Alps, but still among snowy peaks, a "traditional host in the mountains" is waiting for you – Pine Chalets by KA Group.

From July 1, the 32-room hotel and apartment complex will open to guests. The nearest cable car "Pirveli" can be reached from the hotel in 3 minutes.
Here, you will find conceptual interiors, a restaurant, traditional wooden barrel hot baths in the open air, terraces with mountain landscapes, a yard and, most importantly, your host. Each member of our team will take care of the quality and safety of your rest.
Historically, "chalets" were a type of alpine building or house in the mountainous regions of Europe, usually built of sloping roofs made of wood. "Chalets" were originally used to house shepherds. Towards the end of the last century, enthusiasts discovered that they could travel to the alpine regions, while shepherds developed the hospitality market as an additional source of income and vacationers were offered their homes to stay in. The alternative use of the mountain chalets marked the beginning of a new trend in mountain travel.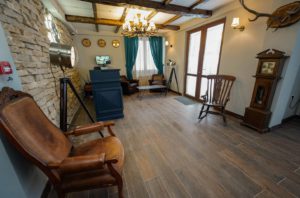 You can become part of this trend! Choose a vacation with modern sensations, mountain traditions and Georgian culture.
Pine Chalets is also distinguished by breakfast, delicious and healthy mountain products, a wide selection of Georgian wine to accompany your ideal dinner, and service features that will definitely make your vacation an unforgettable memory.
By Mariam Mtivlishvili