WHERE TO "THRIFT" IN TBILISI
During the Soviet period, people would do just about anything to get their hands on a pair of Levi's. The "jeans fever" began around 1957, when Moscow hosted the 6th World Festival of Youth and Students, bringing 34,000 people from 130 countries to the Soviet capital. With them, came jeans. Blue jeans were more than just pants: the epitome of American-style capitalism, they became a symbol for the freedom lacking under Soviet rule. People saved up for months just to get a pair, and some even faced prison for trafficking them in. (They were never banned outright, but it was nearly impossible to import anything from the West.)
These days, in post-Soviet Tbilisi, jeans are old news. But many countries across the former Soviet Union are experiencing a creative fashion boom, "hungry for fresh, strange and unfamiliar images to commodify," as one culture journal put it. Georgian designers are making waves, some on the global stage, like Vetements, a clothing and footwear collective and brand founded by the Georgian designer Demna Gvasalia, who is now also the creative director of the Spanish luxury fashion house Balenciaga.
The change is clearly evident on Tbilisi's streets. Scrolling through their Instagram feeds, young people are soaking up global fashion trends. Central Tbilisi could sometimes be mistaken for Paris, if not for the level of trendiness then for the dominant color of the clothing you see there: black. Still, many young Georgian cannot afford international brands, or even many of the local ones. But as in the United States and many parts of Europe, a second-hand, thrift shop culture is also blossoming here. Practically everywhere you walk in
Tbilisi—and especially in the underpasses— there is someone selling used clothes. Many of the stores have clothes heaped on tables, entirely unsorted and unpriced. But for those who truly love to thrift, there is no greater challenge—and no greater thrill—than spending an afternoon wading through a clothes pile looking for that one, amazing gem.
The sheer number of second-hand stores in Tbilisi can oftentimes be overwhelming, and it's easy to waste valuable time stopping in at all of them. The following is a short list to help guide the intrepid thrift shopper along their way.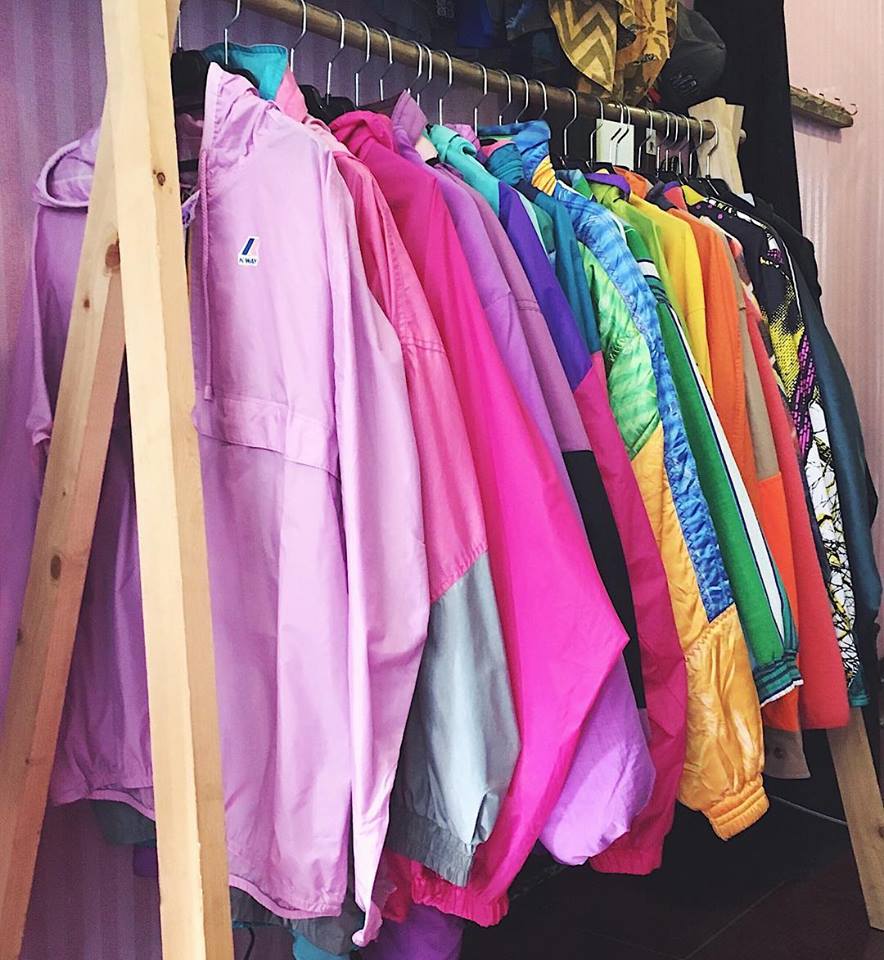 BEATNIK
Located in the heart of Vake on Irakli Abashidze Street, Beatnik doesn't look too different than a thrift store you would find
in, say, London or Austin, Texas. A little more upscale than the average Tbilisi second-hand store, the clothes hang neatly on racks—you won't have trouble finding anything here, and no "digging" is required. The store, which opened last year, sells clothes for both men and women, and has somewhat of a sporty vibe: American footballs sit on ledges above the clothes racks, and the store usually carries lots of sports jerseys and jackets. Most of the clothes have a 70s, 80s, or 90s feel, and there are many brand items from the likes of Carhartt, Adidas and Nike. To get a good sense of Tbilisi youth subculture, Beatnik is a great place to start.
DAY OFF - RE-USE STORE
Day Off is another place straight from the heart of Tbilisi hipsterdom. A self-described "conceptual eco-friendly second-hand store," Day Off gets a lot of traction from its substantial internet presence. The store's Instagram page has over 7,000 followers and nearly 800 posts to date, and every few days they post professional photos of models wearing their clothes, slowly building up a large fan base. There isn't much black here, though: most of the clothes are bright, vibrant colors, orange, yellow, soft pastels. While the prices at
Day Off are slightly above average, the quality and the style make it worth it.
DIDUBE
One of the greatest joys of thrifting is "the hunt," and if you're a thrifter who likes to dig, Beatnik and Day Off might not be for you. There are countless small stores scattered around Tbilisi to check out, but they'll have a limited supply and can carry clothes of questionable quality. But with a whole afternoon free and a determined attitude in hand, Didube is one of the best places to head. Didube is one of the central bus stations in Tbilisi, from which hundreds of buses and marshrutkas (yellow mini-buses) leave each day to all corners of the country and beyond, but the commotion of the bus station is hardly a match for the hubbub of Didube's markets. While the food market is definitely worth checking out, it's the
clothes market that can really occupy you for hours.
The Didube clothes market has just about any type of clothing a person could want, and the quantity of stuff here could probably clothe all of Tbilisi. Each stall in the vast maze of the market has racks upon racks of blue jeans, pants, shirts, undergarments, sweaters, coats, shoes and more. It can be overwhelming at times, but if you go in with a specific item
in mind—size 30 light-wash blue Levi's, for example—the stall owners can probably help you find it. The style of clothes here, though, gears more toward the everyman;
you probably won't find a pastel raincoat here, like you could at Day Off. But for basics, and unexpected gems, Didube is a great bet. Don't be shy of bargaining here, either.
STATION SQUARE
No matter where you are in the world, train and bus stations seem always to attract big markets. Like Didube, the underground rabbit warren that is the Station Square clothes market, located just beneath the city's central rail station, is no exception. If you're trying to use the underpass here to cross the street, better just to dash across the street: you may get
lost underground for hours. The market is definitely not for the claustrophia-prone, either, and on a hot summer's day there's probably nowhere worse to spend your time in Tbilisi.
The Station Square market is fairly similar to the one at Didube, but the former is probably more likely to carry a wide variety of sizes. Navigating the throngs of people pushing past one another and haggling with stall owners can be a bit of a headache, but the potential finds—and the prices—make up for that. And if something doesn't fit you just right, there
are tailoring shops everywhere in Tbilisi that can fix your clothes for a few dollars.
THEM & THEIRS
Them & Theirs is a small shop tucked away in the hills of Mtatsminda. You won't find any sections labelled "men's" and "women's" here: the store has done away with gendering its clothing entirely. Meko and her partner Kate started the store out of an old garage, which they filled with furniture, clothing and art culled from flea markets in Tbilisi, New York—where Kate currently lives—and beyond. Even if the collection is outside your price range, Them & Theirs, a prime example of Tbilisi's globally-focused creativity, is worth a visit.