SUMMER & AUTUMN FESTIVALS
Summer and early autumn don't only mean clubbing and sunbathing- there's also plenty going on in the musical world to grab your interest. Check out what's in store over the next few months.
ECHOWAVES
Echowaves 2019 is a multi-genre music festival in Georgia. This edition's lineup will feature sets from DJ Tennis, Anetha, Antigone, Bjarki and many more. EchoWaves is an electronic music festival that invites you to experience the beautiful seaside resort of Anaklia, Georgia, in the shadow of stunning mountains, promising unforgettable summer memories.This festival brings quality underground music and offers beautiful sunsets, long beaches and the warm Black Sea to swim in. The surrounding area is famously flat and agricultural, though the Greater Caucasus Mountains Range can be perfectly viewed over the sea and boasts a rich history which is reflected in the local characters and customs as well as the architecture.
It's a very special location for a music festival that offers next-level production, impressive stages, day and night parties and stunning natural backdrops, sunsetsand sunrises. During the day you can enjoy sports, attend workshops and have fun with the many different activities that will take place from 22-25 August.
NIGHT SERENADES
International Festival 'Night Serenades' was established 37 years ago. Founder and Artistic Director of the festival is world-famous violinist-virtuoso, Liana Isakadze. Along with her, this year, for the second time, musician Giorgi Isakadze will also serve as Artistic Director. The 2019 'Night Serenades' festival will be held for the 11th time since its revival.
On August 25, 27, and 28 the newly restored Ilia Chavchavadze State Drama Theater will host the Night Serenades
Festival in Batumi. The final two concerts will take place on September 2 and 4, in the Grand Hall of the Tbilisi State Conservatoire.
The base orchestra of the festival is 'The Virtuosos of Georgia,' a chamber orchestra founded on the initiative of Liana Isakadze. Principal Conductor of the festival is Maestro Vakhtang Matchavariani (Georgia/Germany); guest conductor: Maestro
Pantelis Kogiamis (Greece/Austria).
This year's festival performers include world famous musicians:
Nana Jashvili (Violin, Georgia/Germany); Nino Surguladze (Mezo-Soprano, Georgia/Italy); Anna-Liisa Bezrodny (Violin, UK/Finland); Jan-Erik Gustafsson (Cello, Finland); Forte Trio – State Trio of Kazakhstan; David Shamanauri (Trumpet, Georgia); Konstantine Vardeli String Quartet (Georgia); young pianist Sandro Nebieridze (Georgia).
The Director of the festival is Nina Tsagareli and the Organizer is 'Art Alliance'Company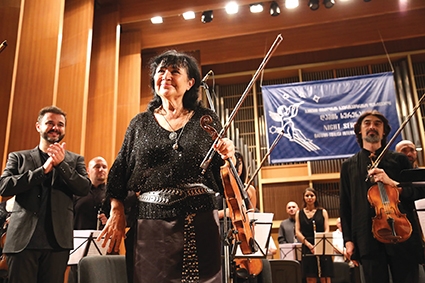 INTERNATIONAL BIRDWATCHING FESTIVAL
Every year, in September the International Birdwatching Festival is held in Ajara. Foreign experts, volunteers and tourists from different countries will come to the region to watch the massive migration of raptors and other birds on the East Black Sea shore. Within the framework of the festival, various field seminars, lectures and entertaining excursions are offered by Georgian and foreign specialists in the bird watching areas: Chorokhi Delta, Chaisubani and Sakhalvasho villages, Batumi Boulevard, Batumi Port and Kolkheti National Park. One of the most popular directions of eco-tourism, birdwatching has high potential in Ajara. The Black Sea coast, particularly the vicinity of Batumi, is known as the "Eastern Black Sea Migration Corridor". More than 1 000 000 raptors migrate through the corridor annually and the area has one of the highest volumes of raptor migration, ranking third in the world and for that reason, it attracts more and more tourists and scientists from different countries. The Festival has been held in the region since 2012 and contributes to the development of birdwatching tourism in Ajara and the conservation of migrating raptors.
BATUMOBA
One festival that Batumi locals favor above all is their city's namesake event 'Batumoba' which takes place at the beginning of Autumn, every year. The program of the festival consists of outdoor activities: celebratory marches, theater performances, markets of all sorts, concerts, exhibitions and more.
BIAFF
When speaking of the art, it is impossible to miss the Batumi International Art House Film Festival which was founded in 2006 and since has been opening its doors to artists and art enthusiasts every autumn.
The focus of this festival is art house and independent film, enabling Georgian cinema artists to meet famous directors,
producers, film critics and to share their experiences.
Cinephiles take just as much interest in the festival as artists themselves because the event offers screenings of those newly released films featuring in world theaters. Seminars and workshops are an inseparable part of the BIAFF festival, where Georgian and foreign professionals hold masterclasses and discussions.
BIAFF 2019 festival: 15-22 September.

GANDAGANA
Since 2015, every October Ajara hosts its rural tourism festival 'Gandagana'. Over two consecutive days, Batumi's Europe Square smells delicious as each Ajaran municipality presents its local produce, food and decor, letting visitors explore Ajara without leaving Batumi city. Tasting new or well-known dishes and wine, and participating in culinary master classes is the major part of the festival, as well as folk and modern music bands and fun competitions that leave an indelible impression on spectators. 'Gandagana' festival is indeed worth devoting two days of October for.