REVIEW: HANMER GUEST HOUSE, SVANETI
I've been working at a distance with British-born Tony for five years and only this year managed to get myself and my three children up to the wondrous heights of Etseri, Svaneti, to visit him and his lovely Georgian wife Lali for a stay at their guesthouse, the adventures of the making of which we get to hear about weekly via Tony's blog in GEORGIA TODAY (which is how I met him, as his editor!).
The journey up is not for the feint of heart. In fact, having once flown to Mestia via prop-plane from Natakhtari Airport, I'd immediately recommend this 45 minute trip over the three hours twisting-and-turning by minibus (though you will have to get a minibus down from Mestia- this makes a much shorter journey)*. That said, the views up the mountains and down the sheer rock face to the river below are stunning.
Etseri boasts the tallest Svan tower in the region with the remains of a fortress around it, though the tower itself is inaccessible to the public for safety reasons. There are also trails leading up through the ancient and still well-inhabited village into and over the hills and mountains, following the roaring trout-proud river.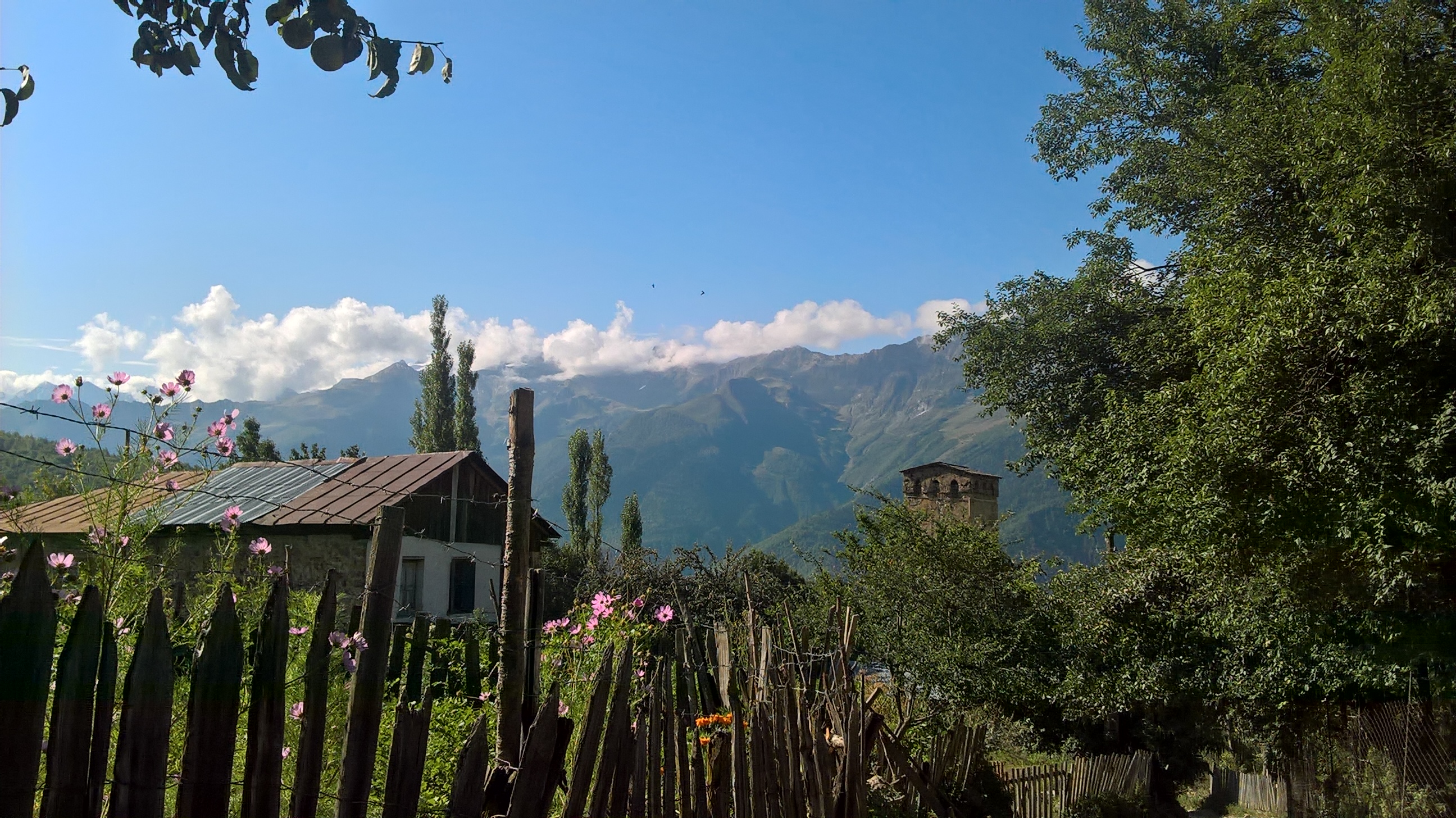 Hanmer Guest House is about 1 km up the track from the main road- km111, only accessible by 4x4 and on foot, not far from the Etseri kindergarten and school. Their property is a two-floor house on a large expanse of flat land with beautiful views up and down the valley and a flower garden to be envious of! They also grow their own vegetables and fruit and have a BBQ area and wooden gazebo for you to enjoy on warm evenings, or even at breakfast.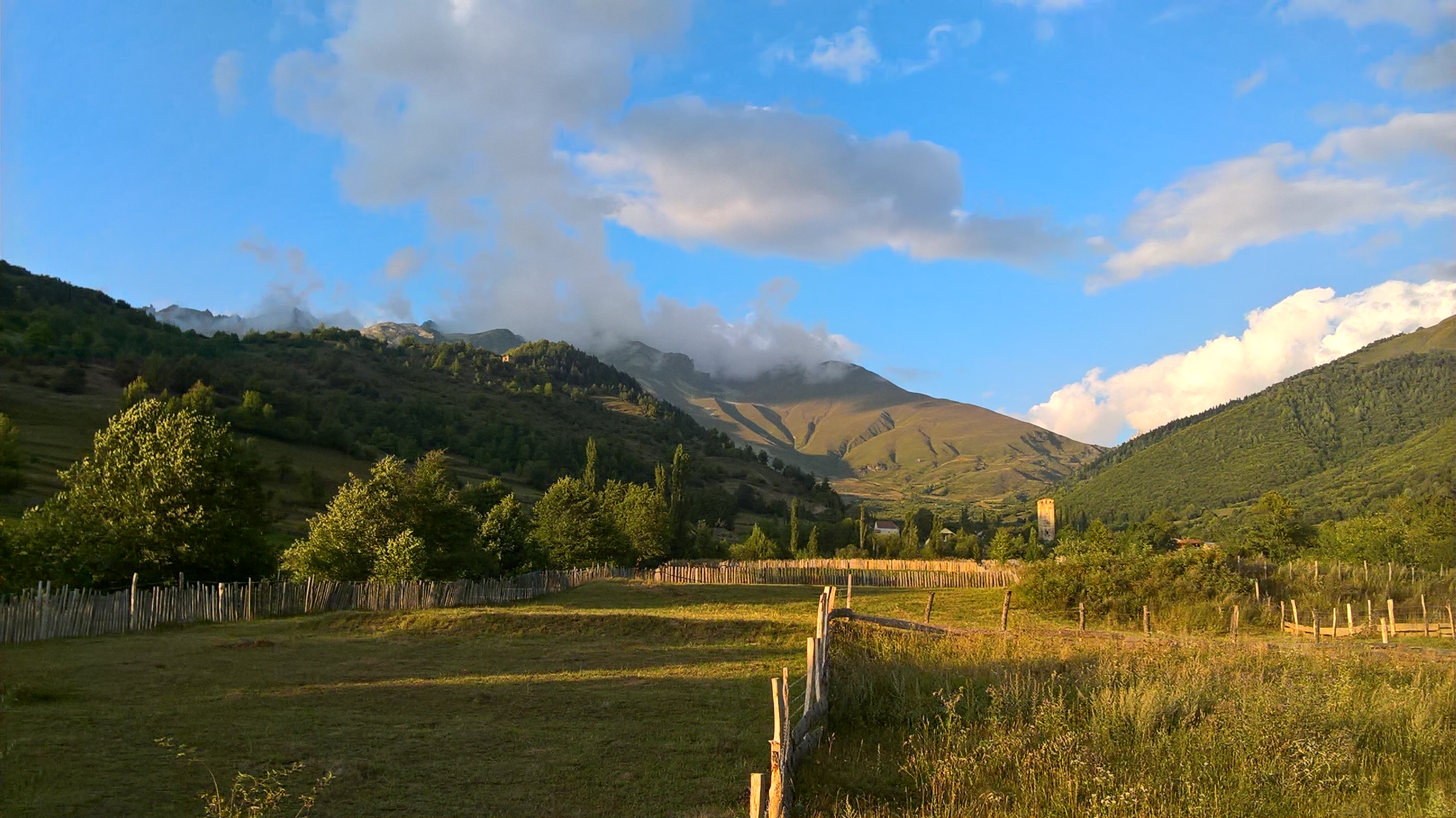 They run the only shop in the area- in fact, there's very little they don't stock, much to the greedy-eyed delight of my kids who had to be pried away from the overloaded counter!
Tony and Lali are both extremely talented in the kitchen if you wish to order your meals in advance, or you can cook for yourself in the kitchen on the second floor- all equipment provided.
The decor downstairs is part renovated, part "as they found it" wooden original, giving a cozy, eclectic feel to the place. Upstairs it's all new tiles, wallpaper and parquet flooring. Big windows on all sides open the house to the spectacular views. Water is drinkable and flows powerfully, and showers are perfectly hot!
Bedding and towels are provided and extras come in the offering of 4x4 tours, horse rental and a bounty of stories about and recommendations for must-sees in the region- just ask Tony!
Rated 9.8 on TripAdvisor, I would even go so far as to give it a 10 - excellent location, fabulous hosts, delicious food and perfect amenities. Make sure to make it your place to stay when exploring Svaneti- you won't regret it.
Review by Katie Ruth Davies
*Flights from Natakhtari with Vanillasky need to be booked in advance. Flights are weather-permitting both there and back and so may be canceled or postponed. Minibuses go up from Zugdidi bus station daily and you'll have to wait for the driver to fill up the minibus as much as possible before he departs.