PIROSMANI UP FOR AUCTION AT SOTHEBY'S
A work by the most well-known Georgian painter of all time, Niko Pirosmani, is going up for auction later this month in London by auction house Sotheby's.
The painting, Georgian Woman Wearing a Lechaki, is not dated but thought to have been painted around 1906.
Pirosmani lived from 1862-1918. The sale is part of a series called 'Russian Pictures,' being held on November 27, that will also includes paintings by Konstantin Egorovich Makovsky, Ilya Efimovich Repin, and Nikolai Fechin.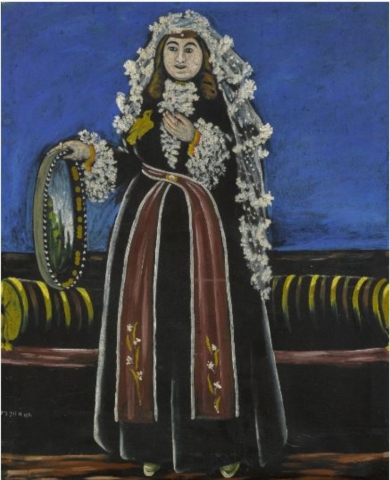 Sotheby's Catalogue Notes for the piece detail its provenance and some history of the painting and the artist:
"Pirosmani was famously 'discovered' in Georgia in 1912 by the Futurists Ilya and Kirill Zdanevich, who arranged for several of his works to be sent to Moscow in 1913 to be exhibited at the Mishen' exhibition alongside those of his avant-garde contemporaries, including Natalia Goncharova and Mikhail Larionov. His approach to painting was exciting because it extended the boundaries of what counted as 'acceptable' art – and inevitably invited the ridicule of conservative critics who mocked his inability to paint 'correctly'. The Georgian was a withdrawn figure with no formal artistic education, and up until this point had earned a meagre living decorating interiors and painting shop signs in Tbilisi, often accepting food and drink in lieu of payment. He tended to paint directly onto the material most readily available to him such as tablecloths belonging to the establishments he was working for.
Just as his work began to garner wider attention Pirosmani retreated into obscurity, which only fueled the air of mystery that would come to be associated with his name after his death in Tbilisi in 1918. His raw untutored aesthetic inspired a generation of Georgian and Russian artists who were looking to break free from the academic stagnation of the traditional schools of art. Georgian Woman Wearing a Lechaki is one of a series of 'Georgian Women' painted by Pirosmani, the majority of which are now owned by the State Museum of Georgia (fig.3). There are minor variations between the five known examples of this composition (the present lot included), such as the wings of the bird on her lapel and decorative detail on her clothing. While only one of the known examples is dated '1906', at least one other is also inscribed 'gruzinka.'"
Georgian Woman Wearing a Lechaki is expected to sell for $650,000-900,000. The profits of the sale will benefit the Reed Library at the State University of New York at Fredonia in the United States. To place your bid, click here.
By Samantha Guthrie
Photo: Sotheby's