OUR TOP WINTER HOTELS
While some people are already eagerly awaiting spring, when the sun begins to warm and the trees to bud, others are hitting the slopes every weekend to escape the stress and noise of the- dry and decidedly un-snowy -city. If you're among the latter, or you don't ski but fancy a winter getaway anyway, have a look at our favorite hotels below.
HOTEL POSTA, MESTIA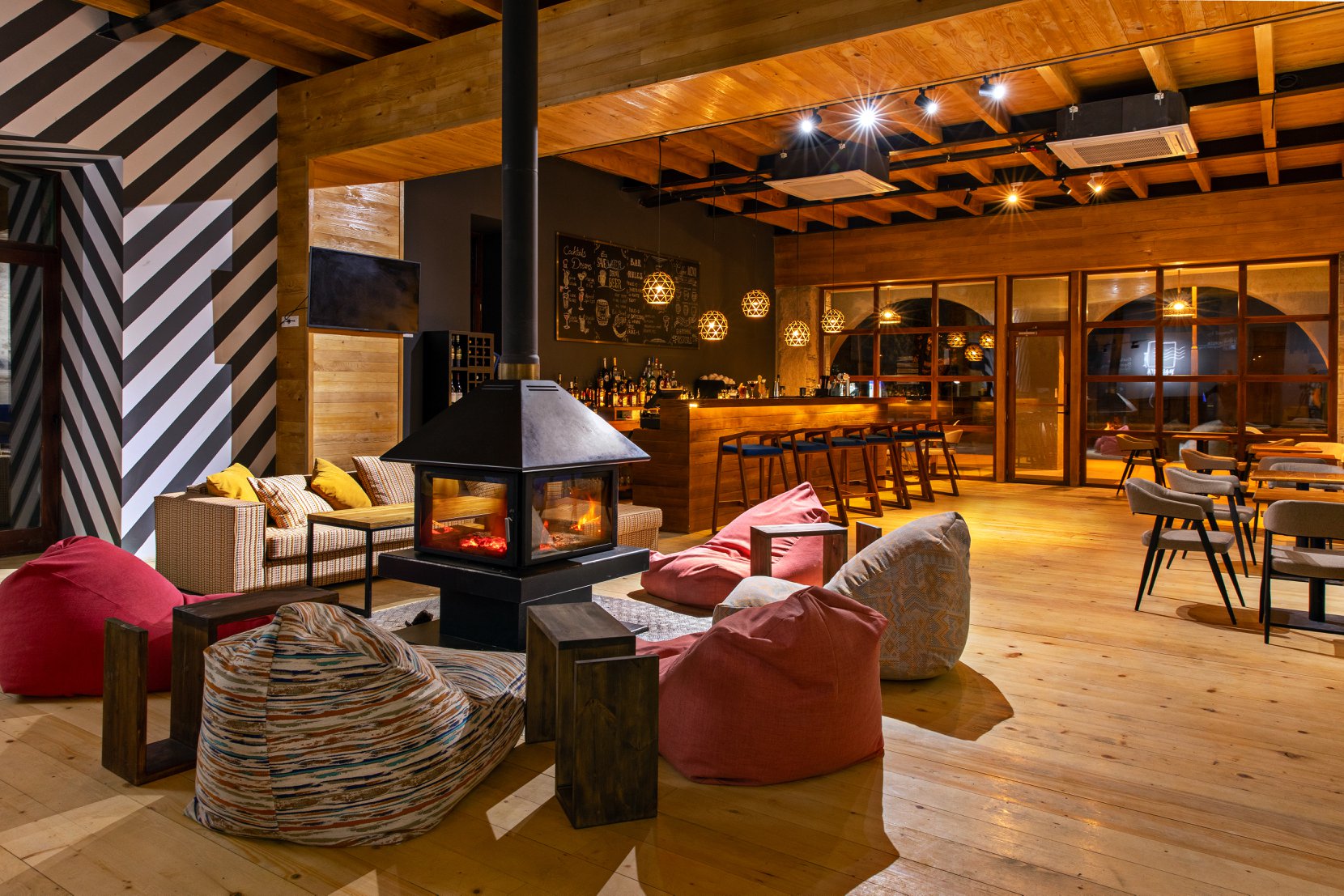 Hotel Posta is a new hotel in the center of Mestia, in Georgia's mountainous Svaneti region.
Its convenient location and high quality service are good reasons to stay here, but even better is the incredible design. Posta feels like a mountain lodge, with a James Bond sleek edge, and a dash of whimsy. If you can't spend the night, it is at least worth having a cocktail or a glass of wine at their bar, and cozying up to the indoor fireplace. For an immersive Mestia experience, luxury service, and a memorable trip, consider Hotel Posta.
Seti Square, Mestia, Svaneti
SAIRME HOTELS & RESORTS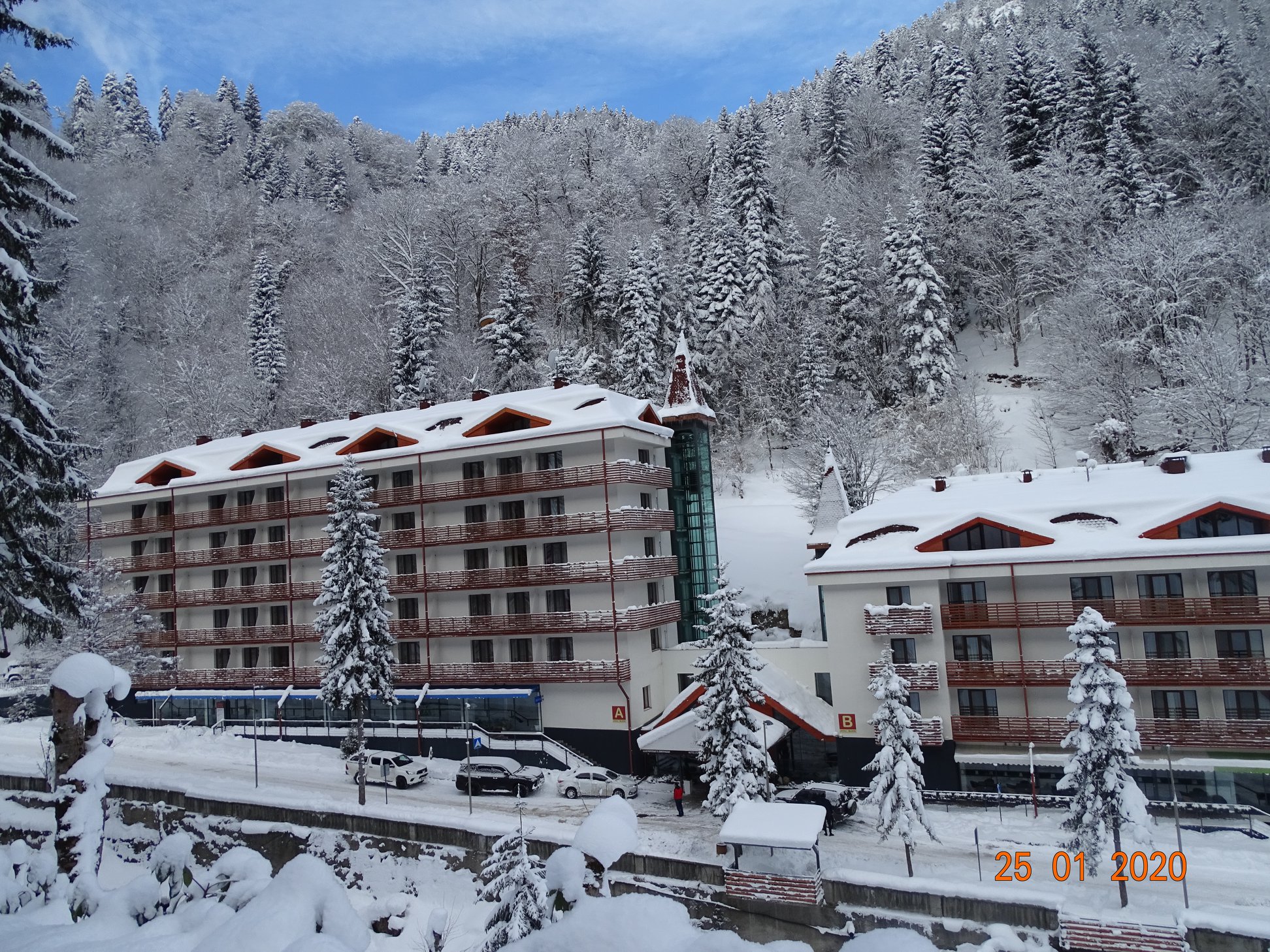 Sairme is a freshly renovated hotel in the heart of the Sairme Resort grounds. It offers two low-rise buildings, a restaurant, a buffet kitchen serving healthy food thrice-daily, a clinic, a bar and regular transport to and from the pools and spa center 4km away.
The renowned four types of mineral water are just minutes away in the park opposite the hotel, with more detailed information on their four distinct properties and health benefits available in each room and at reception. Also in the park, you'll find the children's playgrounds and a small billiards hall. A zip-line runs over the hotel from the mountain to the park and further up the hill there is a (summer only) paintball area and wood trail.
The rooms themselves are simply furnished with comfortable beds, storage space and desks. A TV, heating and air-conditioning come as standard, as do robes, slippers, towels, soap and shampoo. If you forgot your toothbrush, just ask at reception and they'll happily provide!
Try to get a room facing the park as although all rooms have balconies, those with 'mountain views' are just that- in this narrow gorge, the mountain is just meters away from the rear wall of the building!
Pleasant and very helpful staff round off a potentially very pleasant stay for families and business persons alike- and a variety of top-floor conference rooms make this a great choice for small team-building and other work-related events.
HOTEL TERRACE 8 BY MGZAVREBI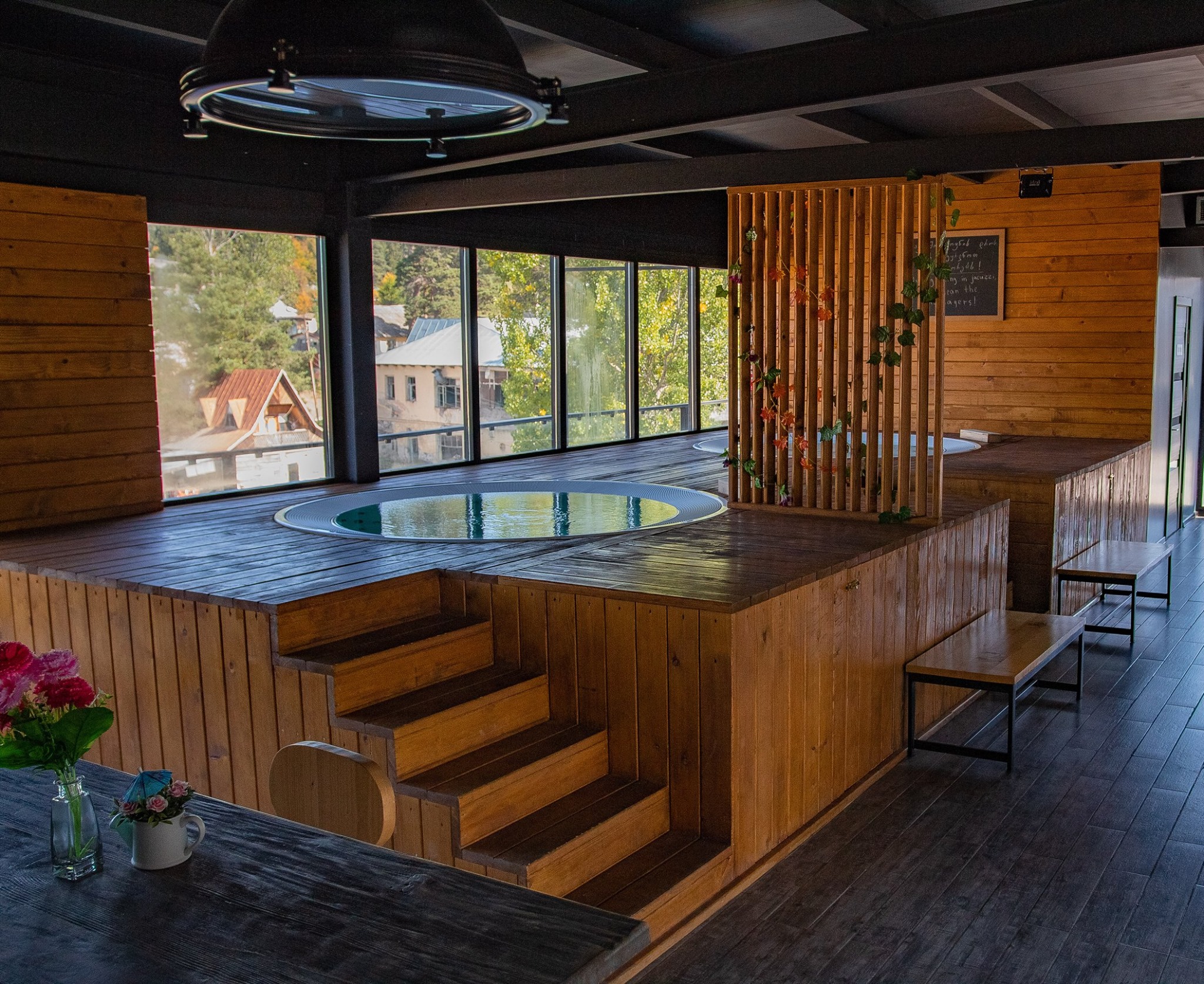 Mgzavrebi in Georgian means travelers, and this property lives up to its founding group's name as a haven for travelers.
The stylish design and many common areas for lounging greet you when you first enter the lobby. If you're in Bakuriani for an active ski vacation, Hotel Terrace 8 offers ski-in, ski-out rooms, a shuttle to the ski lifts, and friendly staff who will help you rent ski equipment.
If you're looking for more of a cozy chalet retreat, the hotel's spa and restaurant are perfect. With views of the mountains from the sauna and an outdoor jacuzzi – you never have to leave the property!
HOTEL-RESTAURANT DEUTSCHE MUHLER, BOLNISI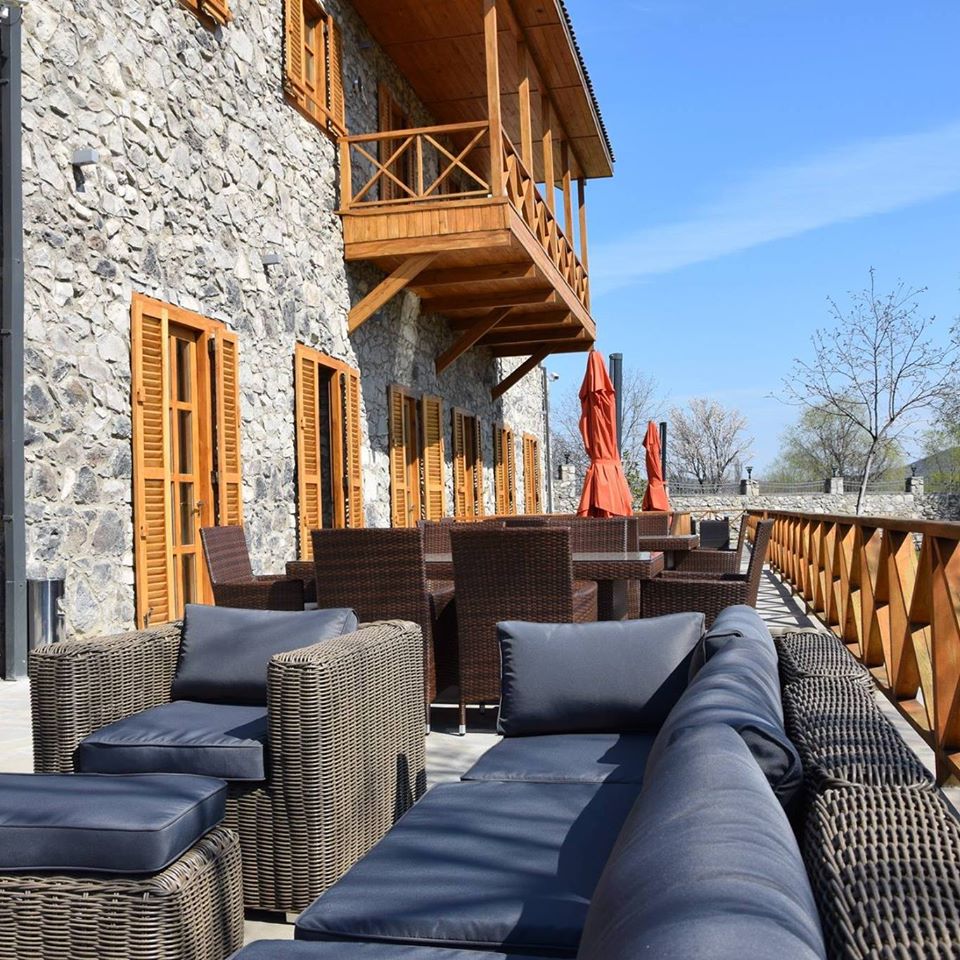 Follow in the footsteps of the first German settlers who came to Georgia nearly 200 years ago to develop the agricultural sector.
Bolnisi still has traces of this important aspect of Georgia's history and this hotel is just one place where you can appreciate it.
Its restaurant serves delicious Georgian (and some German) dishes and you can sit on the terrace enjoying the view while you eat or snuggle up to the big fireplace in their stylish banquet hall.
The hotel offers seven beautifully designed rooms:
4 double rooms
1 large double room / Junior Suite
2 triple bed room / Senior Suite.
All rooms have shower / WC, flat screen TV with satellite channels, telephone, internet access, Wi-Fi, a mini bar and a safe.
The hotel offers day trips to the surrounding sites and will do everything to make you feel welcome at thie "refuge of german hospitality for visitors from around the world."
HOTEL PORTA CAUCASIA KAZBEGI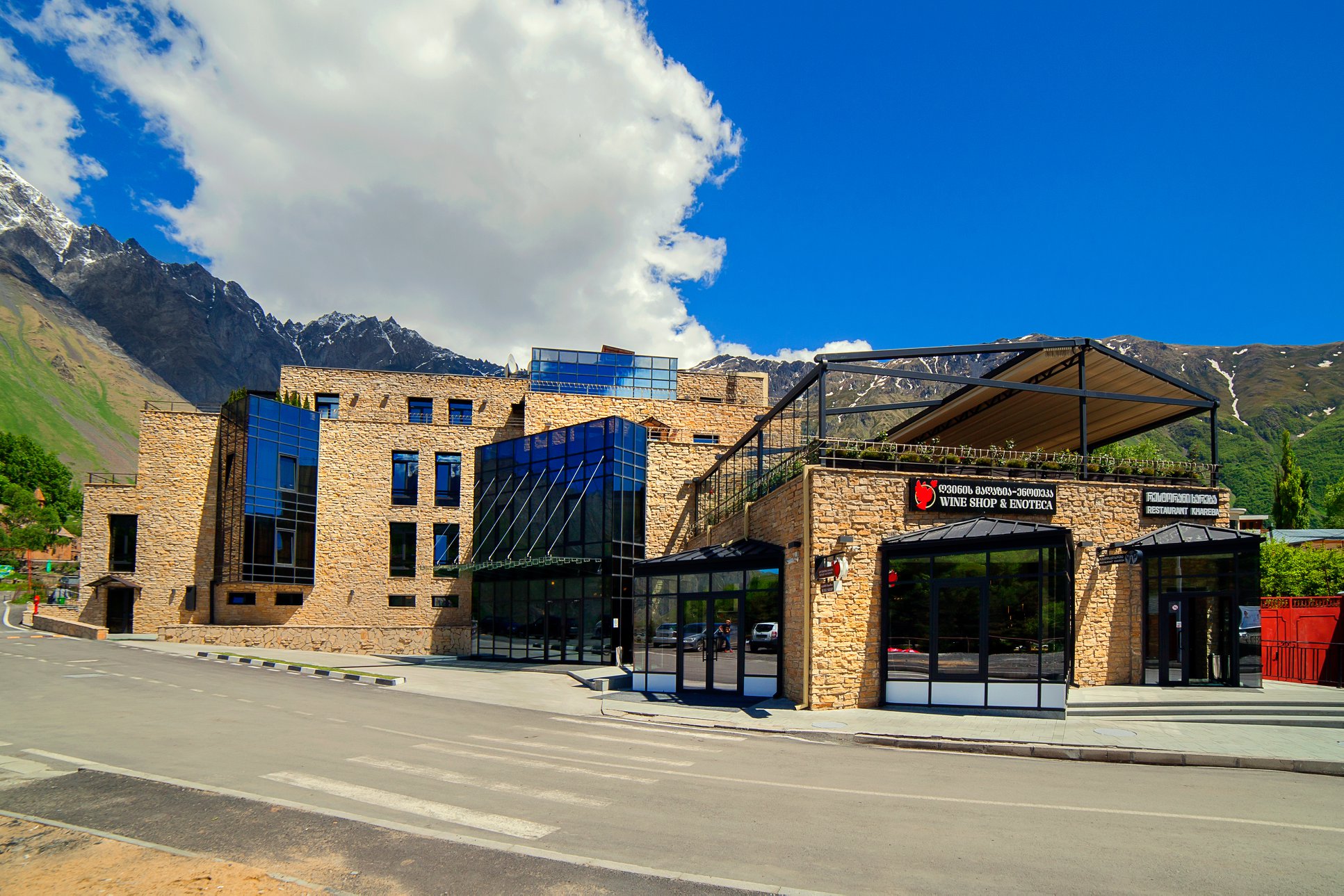 Porta Caucasia, meaning 'Gate to the Caucasus' is a freshly launched four-star hotel located in the heart of Kazbegi.
Kazbegi and its surroundings have been attracting a lot of visitors of late; people are drawn there by a love of nature, exotic and historical sights, and the magnificent views of Mount Kazbegi found in the Dariali Gorge.
Porta Caucasia is the perfect place to stay if you're interested in visiting this region. It is unusual to find such comfort and support high in mountains, but you will be amazed to discover the high-quality service this hotel provides.
The hotel stands out for numerous reasons. Paying attention to detail, the interior is manufactured by Villeroy & Boch, as is the furniture, which is wooden and eco-friendly. Luxury and taste merge to create a great sense of ambiance. Each room is well equipped, offering all the important facilities. Private bathrooms come with top-of-the-range toiletries.
Porta Caucasia has pioneered the creation of a private online platform for bookings and reservations, allowing ease of contact with hotel staff.
World-famous Georgian Winery Khareba is the founder of Porta Caucasia and there are wine tours inside the hotel on the ground floor.
The hotel has Georgian and European cuisine represented in two restaurants within the hotel, featuring delicious dishes, made using locally produced products. The wine is something particularly worth mentioning, as Khareba Winery presents varieties of wine in both restaurants. There is also a terrace and lounge on the top floor.
Porta Caucasia is ideal for couples, families, leisure holidays, business trips.
The staff can plan trips according to your personal interests: try their Alpine Tour on Mount Kazbegi, with equipment and personal guide provided. If you are more into history and culture, take advantage of their Culture Tour, which includes a visit to various historical sites, including Gergeti Church and several Chateaus.
Kazbegi is close to Gudauri resort and the hotel offers affordable transfer services.
By Katie Ruth Davies