EASY WINE- WINE MADE EASY!
What is EASY WINE?
EASY WINE is an international wine bar-restaurant brand found in Georgia and Europe.
EASY WINE is located in the historic part of the capital Tbilisi amidst the most important sights of the city. EASY WINE is ideal to visit after sightseeing in the old neighborhood- take a break or relax after your tour!
Why EASY WINE?
EASY WINE offers you the opportunity to discover your wine taste – everything is at your disposal:
Tasting Dispenser
Sommelier
EASY BOOK (Alcohol Handbook of Georgian Production)
Apparatus Testers
EASY WINE is the best place to get familiar with the diversity of Georgian wine. You have a wide range of Georgian wines - up to 250 varieties, including:
▪ Wine from every corner of Georgia
▪ Products of small cellars and wine producing companies;
▪ Products made in Qvevri, classical and individual/exclusive technologies
It is essential that the drink and dish complement each other – and our sommelier and cook will help you find your choice and taste of harmony. The sommelier will also share information regarding wine and its production techniques.
When to EASY WINE?
Built a century ago, the building creates a special environment for its old and modern interior design.
Guests can enjoy a hospitable, cozy and comfortable environment. The place is ideal for business meetings, friendly gatherings or even relaxing alone. In short - EASY WINE is designed for your comfort!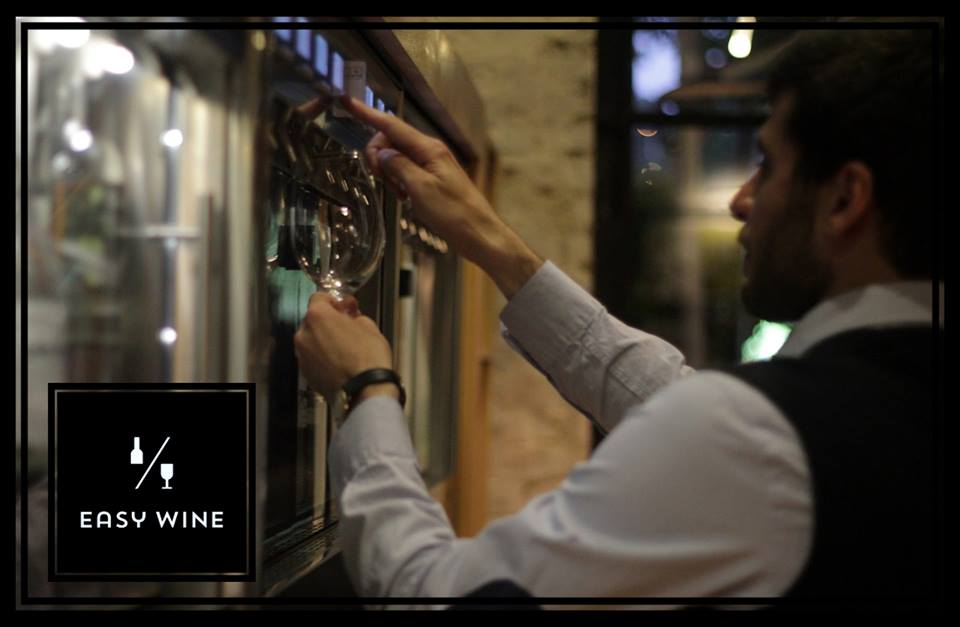 DISPENSER
EASY WINE offers a unique way to store and taste, with the tasting dispensers produced by the Italian company "Wine Emotion".
This allows the wine to maintain its original natural taste and aroma, even after opening the bottle. The "Wine Emotion" apparatus sets the wine directly from the bottle to the cup so that it fully preserves its organic properties, aroma and all features.
Tasting dispensers help us offer you a wide choice. The self-service option allows users the choice of freedom and helps them to better understand the variety of Georgian wine. The desired type of wine can be tasted at 50/100/150 ml, and customers can view the type and cost of each wine on the electronic dispenser panel before making a decision.
CARD
A special (wine) card is used to make use of the degustation dispensers. Instructions:
Put the card in
Choose the wine
Choose the quantity
Position the glass
Click the button and the wine is yours!
You can taste premium quality wine without purchasing the whole bottle at EASY WINE. The Tasting Dispenser offers the opportunity to taste the desired drink at a quantity you feel comfortable with.
When you want to know more about Georgian wine, when you want to introduce your foreign guests to the incredible diversity of Georgian wine, when you want to be aware of your drink's specification and which food creates the right blend of taste, you know exactly where to go – EASY WINE is waiting for you!
WHERE:
Bambis rigi N7, Tbilisi, Georgia (0105)
TEL: (+995) 596 60 00 20
E-mail: info@easywine.ge
Open: 12 PM - 00:00 AM